ECommerce is a great sphere able to surprise you with unexpected audiences and their same unexpected preferences. If you have an eCommerce business, a foreign customer willing to purchase in their local currency is not a surprising thing for you. That's why currency conversion apps are a must not only for those who sell globally, but also for businesses marked with good customer service.
So if you're reading this blog post, you might be considering having Shopify currency exchange on your store. And to help you with this decision, let us introduce you to the list of benefits this simple feature can bring to your business.
The benefits of currency conversion app
The money converter apps are popular among Shopify merchants, because they bring many benefits to online business:


Attract international buyers
Going global is the best way to increase sales and drive more customers to your store. However, it's important to adjust your store to foreign shoppers if you want to succeed. Nobody likes to calculate the approximate price by themselves, and shoppers will barely do this. But when offering pricing in the familiar currencies you increase chances foreign shoppers will get interested in products your store offers. 


A currency conversion app is a quick and easy way to offer currency exchange in online stores. No manual work is needed! Just install the plugin, add necessary configurations and increase conversions with more currency options convenient for every shopper visiting your store.


People working in foreign markets know firsthand how important accurate calculation is. With constantly changing exchange rates, currency conversion apps become crucial for any international business. 
Although Shopify Payments can take care of the cart section showing the accurate rate, so you don't lose in currency exchange, your product pages and collections should reflect the correct price too, which is possible with a good currency converter. 


Shopify currency exchange apps are usually free
What's best about currency converter apps on Shopify is that the majority of them have free plans or free trial periods. It means that to offer multiple currencies in your store won't cost you a penny. Besides, converters are usually ad free, so you get useful functionality literally at no charge.
5 best currency converter apps on Shopify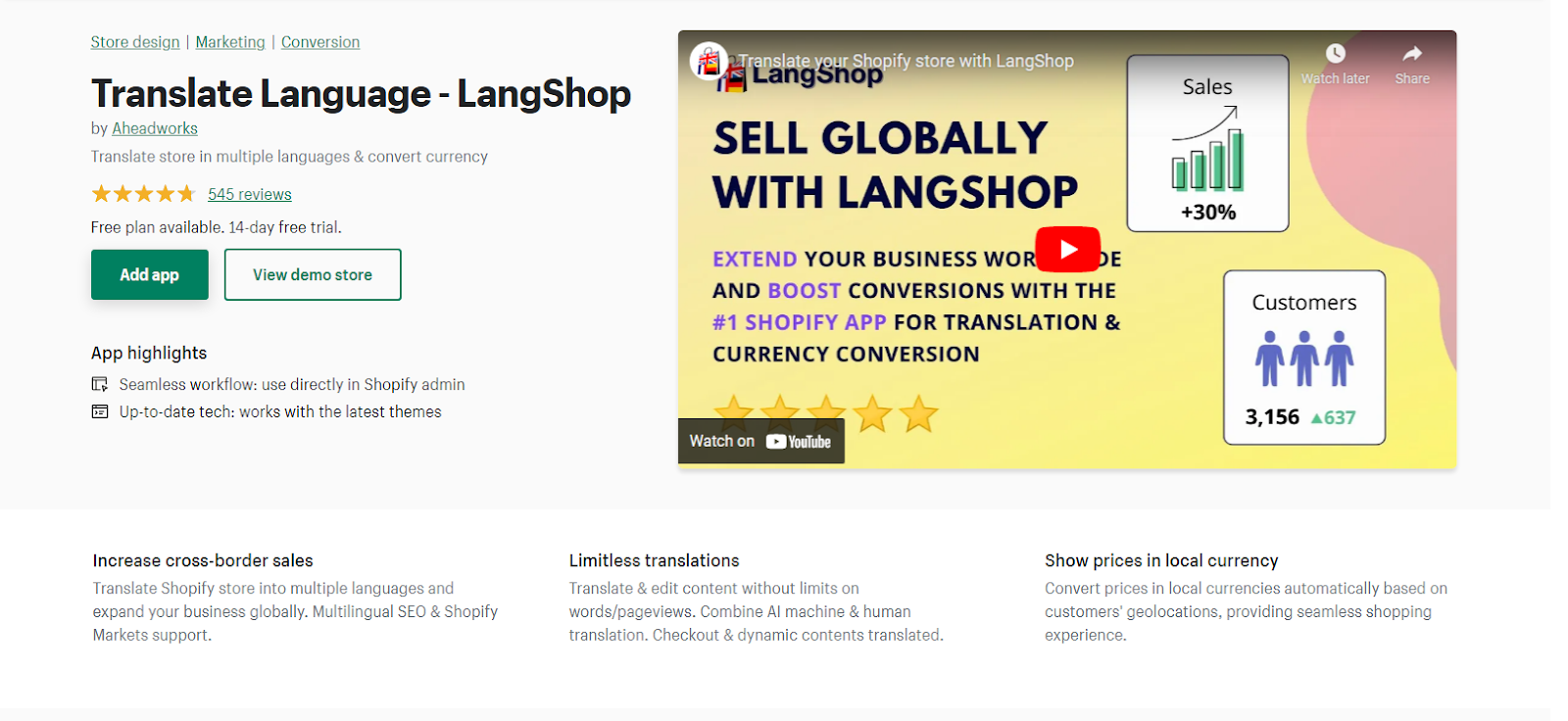 You may wonder why we start our discussion of the best multi-currency apps with a translation app. Well, LangShop functionality doesn't end with language translation. The application provides everything you need to expand your borders to international markets, including content translation, multilingual SEO and multi currency support.
LangShop allows users to add an unlimited number of currencies, set and customize switchers to make them visually appealing and matching website design. But if you don't want to distract your shoppers with switchers, there's autodetection mode which works based on your preferences: the price is displayed according to store currency, browser language or visitor's country.  
Here are some more details which can help you understand LangShop better.
Pros:
Supports 156 world currencies and allows adding an unlimited number to Shopify store;

Automatic currency detection mode based on your preferences;

Daily exchange rates update;

The possibility to add custom currency rates;

Easy currency formatting to display rounded decimals in prices;

Customizable currency switchers;

Integration with fixer.io for accurate exchange rates;

24/7 support.
Cons:
The number of currencies supported by the app is 156. However, they are more than enough as the most popular ones are presented.
Pricing: Free plan available, and 14-day free trial for paid plans.
Rating: 4.7.
Add 150+ currencies to your Shopify store with LangShop!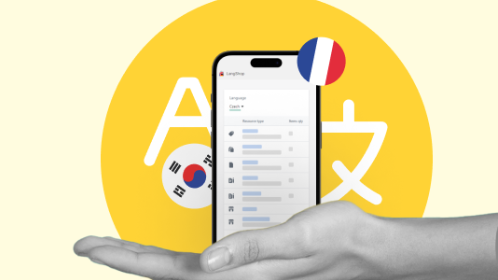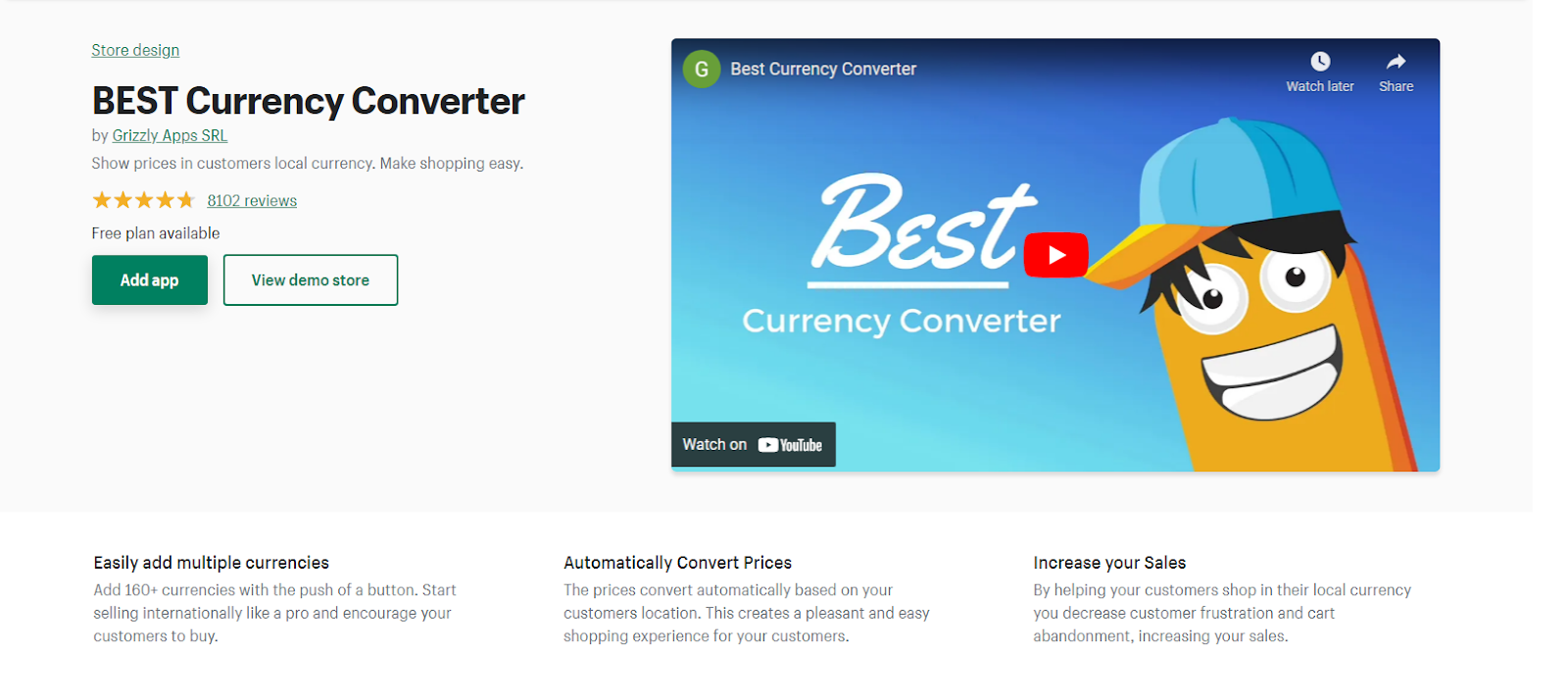 Now let's pay our attention to fully currency-focused apps. BEST Currency Converter is the app produced by Grizzly Apps SRL. 
The application supports 160+ currencies and allows you to add multiple currencies according to your plan. BEST Currency Converter detects shopper location to switch currency for customer's convenience.
Let's see the full list of advantages of the app.
Pros:
Supports 160+ currencies including Bitcoin;

Currency rates are updated twice a day;

Autodetection mode to switch currency according to customer's location;

3 currency converter themes;

Currency display configuration with rounded decimals option;

Checkout notification with original prices.
Cons:
A lot of features are limited by plan - free plan users are provided with only 5 currencies and 3 designs.
Pricing: Free plan available.
Rating: 4.7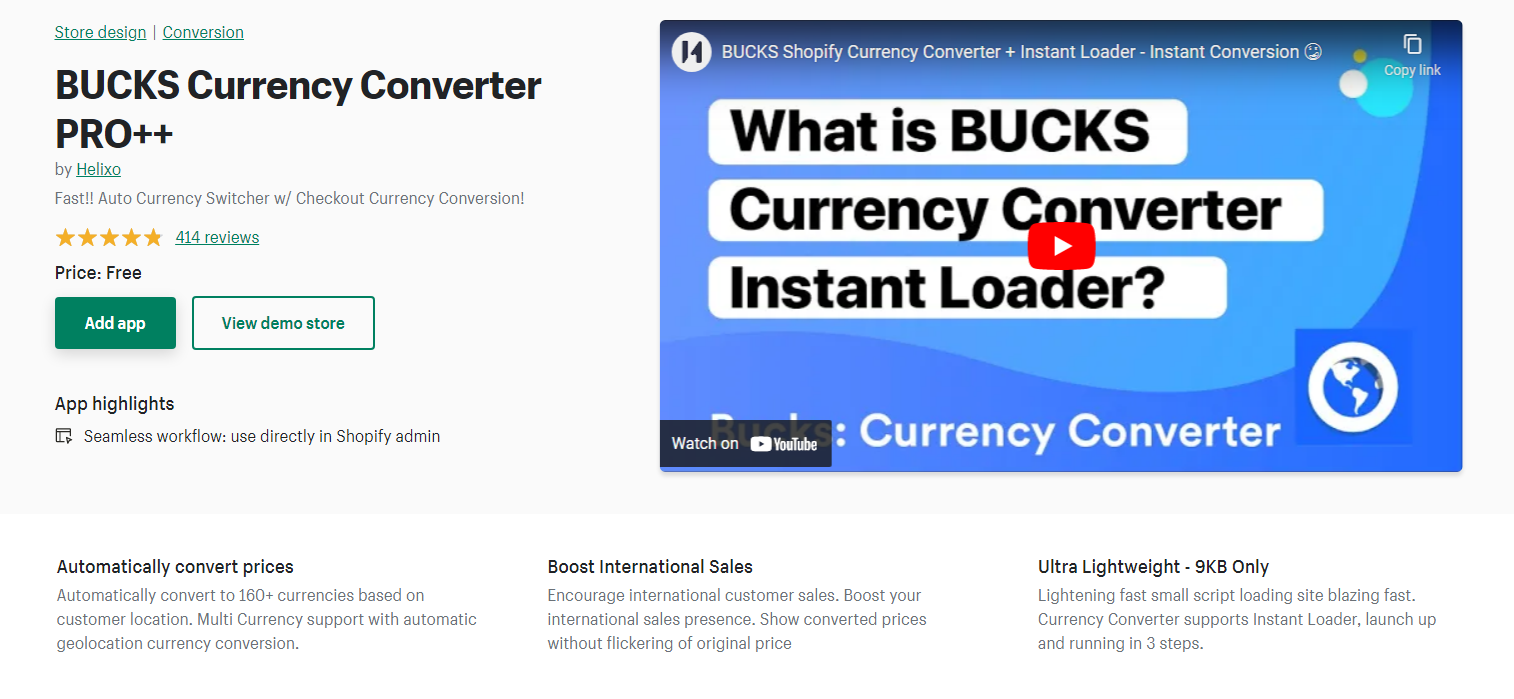 BUCKS Currency Converter PRO++ is a Shopify app by Helixo, which is marked with lightweight fast functionality and the Instant Loading technology.
Same as the previous app, BUCKS converter supports 160+ currencies and shows the original price on mouse over the converted price.
Pros:
Supports 160+ world currencies;

Instant loader feature;

Works with AJAX Carts;

No flickering while showing converted price;

Automatically switches currency based on customer location;

Currency rounding;

Compatibility with any theme.
Cons:
Users claim that when something gets changed in settings, the layout of the app is getting an additional layer. 
Pricing: The app is free.
Rating: 4.8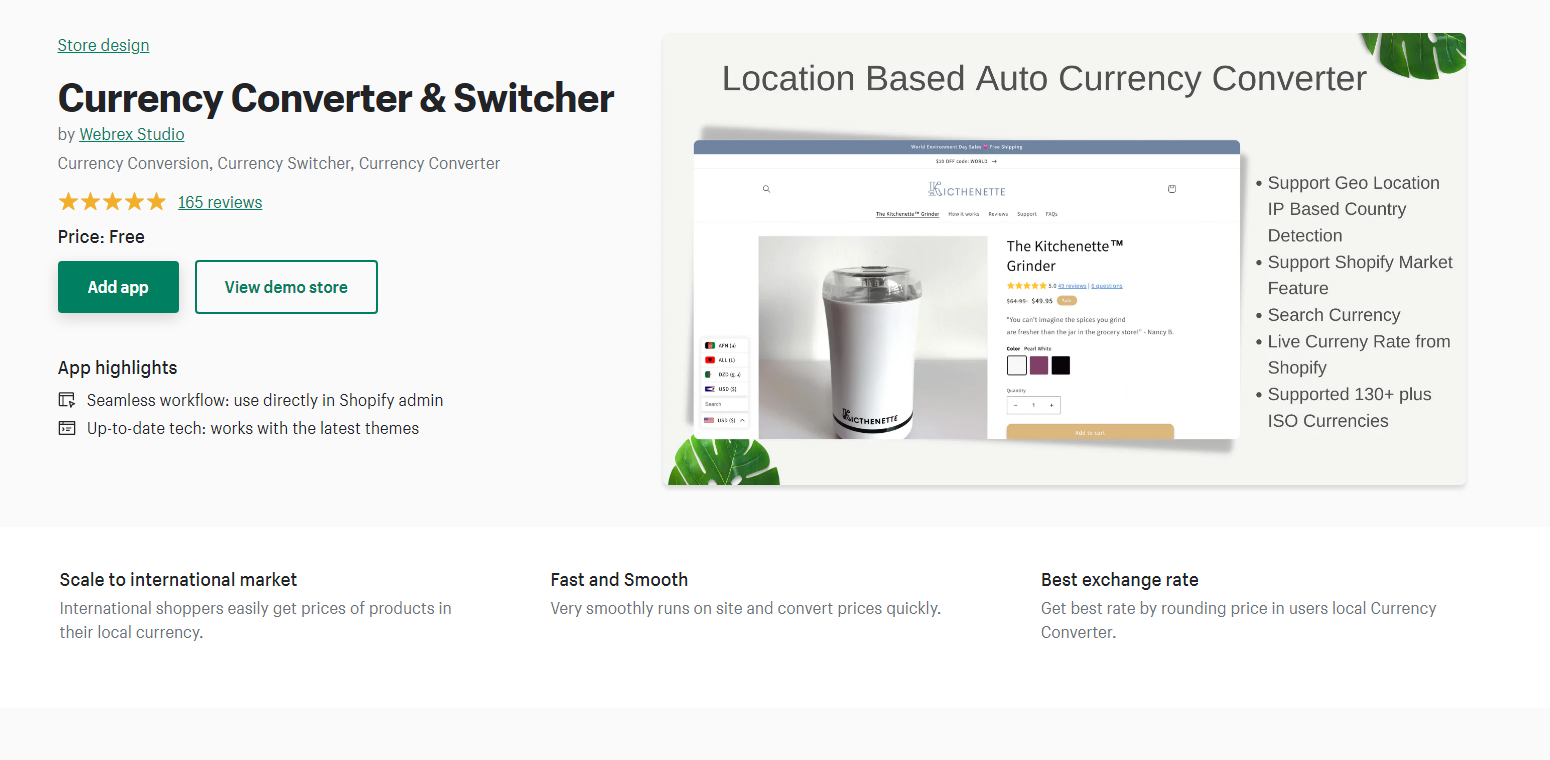 The next Shopify currency exchange app we are going to discuss is Currency Converter & Switcher. The app integrates with Shopify seamlessly and provides three levels of currency settings based on customization rules.
Besides, the app allows users to set manual exchange rates and customize currency selection dropdown. Find more features of the app below.
Pros:
Supports 130+ ISO currencies;

Switches currencies automatically based on customer location;

Three layers of currency settings based on smart rules;

Customizable currency switcher;

Show/hide currency switcher feature;

Price rounding rules based on Shopify rounding;

The possibility to add custom CSS;

Cart page notifications.
Cons:
Isn't compatible with some themes.


Pricing: The app is free.
Rating: 4.9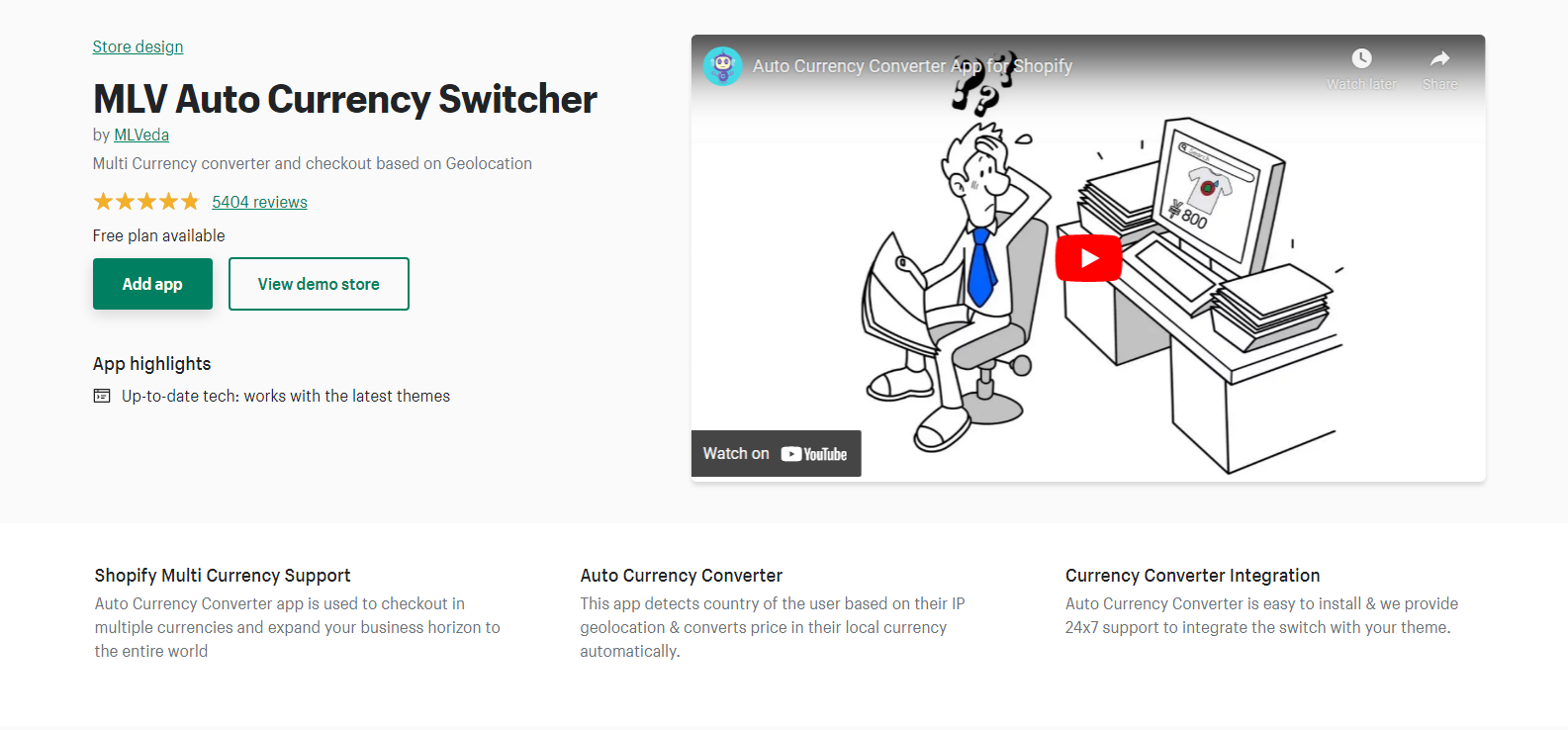 Perhaps the most currency-reach money converter app in this list is MLV Auto Currency Switcher. It supports 200 + ISO currencies and integrates with Shopify Payments for better user experience and a super convenient conversion process.
The application makes a currency selector dropdown to integrate to the store theme and customize prices to improve their readability.
Pros:
200+ currencies support;

Customer IP-based currency detection;

Seamless integration with Shopify Payments;

Rounding to integers;

Switcher customization options;

24/7 support
Cons:
Features are limited according to a plan: auto detention mode, some customization features and rounding are not available for free plan users.
Pricing: Free plan is available, 15-day free trial for paid plan.
Rating: 4.8
As you can see, currency conversion apps provide relatively the same features, but still have some unique customization options which can make it work for you. 
Our list of the best Shopify currency converter apps contains only highly rated and quality plugins, so any of them can render you a great service. What is even more important is that all of mentioned apps either are completely free or offer a free plan. It means that going global can cost you nothing, isn't it magnificent?
Find more tips on expanding business to international markets in Top 6 ECommerce Businesses That Need Translation Services and 3 Key Ways to Improve Your Localization Strategy in 2022 articles.