If you've stumbled upon this blog post, chances are you're in search of the best translation app for your Shopify store or considering the exciting venture of selling internationally. We're here to lend a helping hand and shed light on the tools you'll need to successfully localize your store and create a seamless experience for your international customers.
How to create a multilingual Shopify store
Shopify supports multiple languages, but its built-in functionality has limits for theme code editing, which does not include actual website content translation and caters to single language stores. To support different languages in your store and enable a language switcher for your customers, you'll need a Shopify language translation app. 
There are a plenty options of the language translation apps on Shopify App Store - free and paid. When choosing the best translation app for your needs, consider features such as the ability to translate the entire store, support for a wide range of languages, various translation methods, and additional localization functionalities. The more robust the app's localization features, the greater your chances of reaching international customers and creating an immersive multilingual shopping experience.
How to choose the best Shopify translation app for your store
The best Shopify translation app should meet specific criteria and offer essential features to provide a seamless and efficient translation experience.
Criteria for the Best Shopify Translation App:
Multilingual Support: The app should support a wide range of languages, ideally covering a large number of languages globally (e.g., 247 languages) to reach a diverse audience.

User-Friendly Interface: A user-friendly and intuitive interface is crucial for easy navigation, efficient management of translations, and smooth integration with the Shopify store.

Accuracy: The app should deliver accurate translations to maintain the integrity of the original content and ensure effective communication with customers in different languages.

Customizability: It should allow users to customize translations to match their brand voice and adapt content to the preferences of specific regions or target audiences.

AI Translation: AI-powered translation capabilities should be available for faster results and efficient handling of large volumes of content.

Compatibility: The app should seamlessly integrate with Shopify and be compatible with other apps or plugins that users may have installed on their stores.

SEO-Friendly: The translation app should maintain the SEO integrity of the original store, allowing users to optimize translated content for search engines to attract organic

traffic.
The most feature-rich translation app on Shopify App Store is LangShop. With over 6,000 active users, LangShop is considered to be one of the most popular language translators on Shopify. And here are reasons why LangShop is the go-to solution for achieving seamless localization and unlocking global success.
Reason 1: Extensive Language Support
With over 240 languages and dialects covered, you can communicate with customers in their native tongue and make a lasting impression. From Arabic to Zulu, LangShop has got you covered.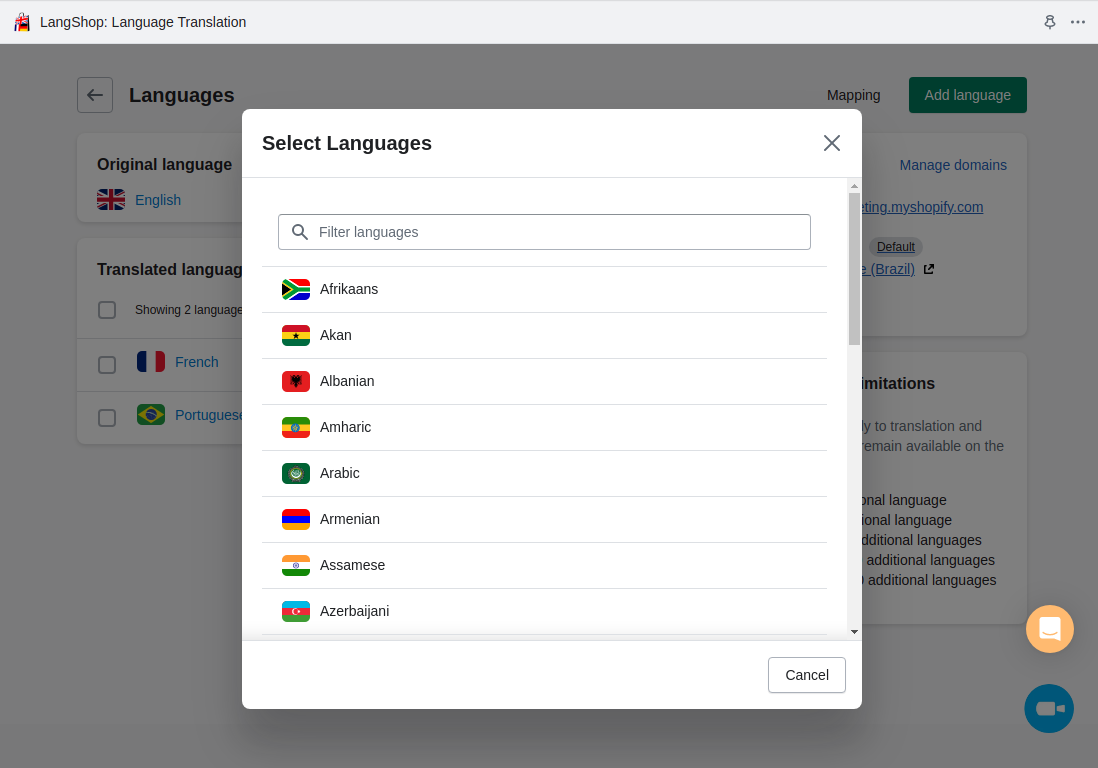 Reason 2: Versatile Translation Methods
LangShop offers four different methods to suit your fancy. Whether you're into AI machine translation, Google Translation or DeepL Translation, good old manual translation, or prefer gaining the highest quality translations from professional translation agencies, you've got options. Choose what works best for you and your store.
Reason 3: Unlimited Translation Capabilities
LangShop believes in setting you free from limitations. No restrictions on the number of pageviews or characters that can be translated. Whether you have a small boutique or a booming e-commerce empire, LangShop is here to support you in scaling your business without any roadblocks.
Reason 4: Your Whole Store, Translated to Perfection
LangShop goes beyond mere translation of content. It can translate your entire store, including checkout pages, dynamic text, URLs, and even third-party apps. Nothing gets lost in translation.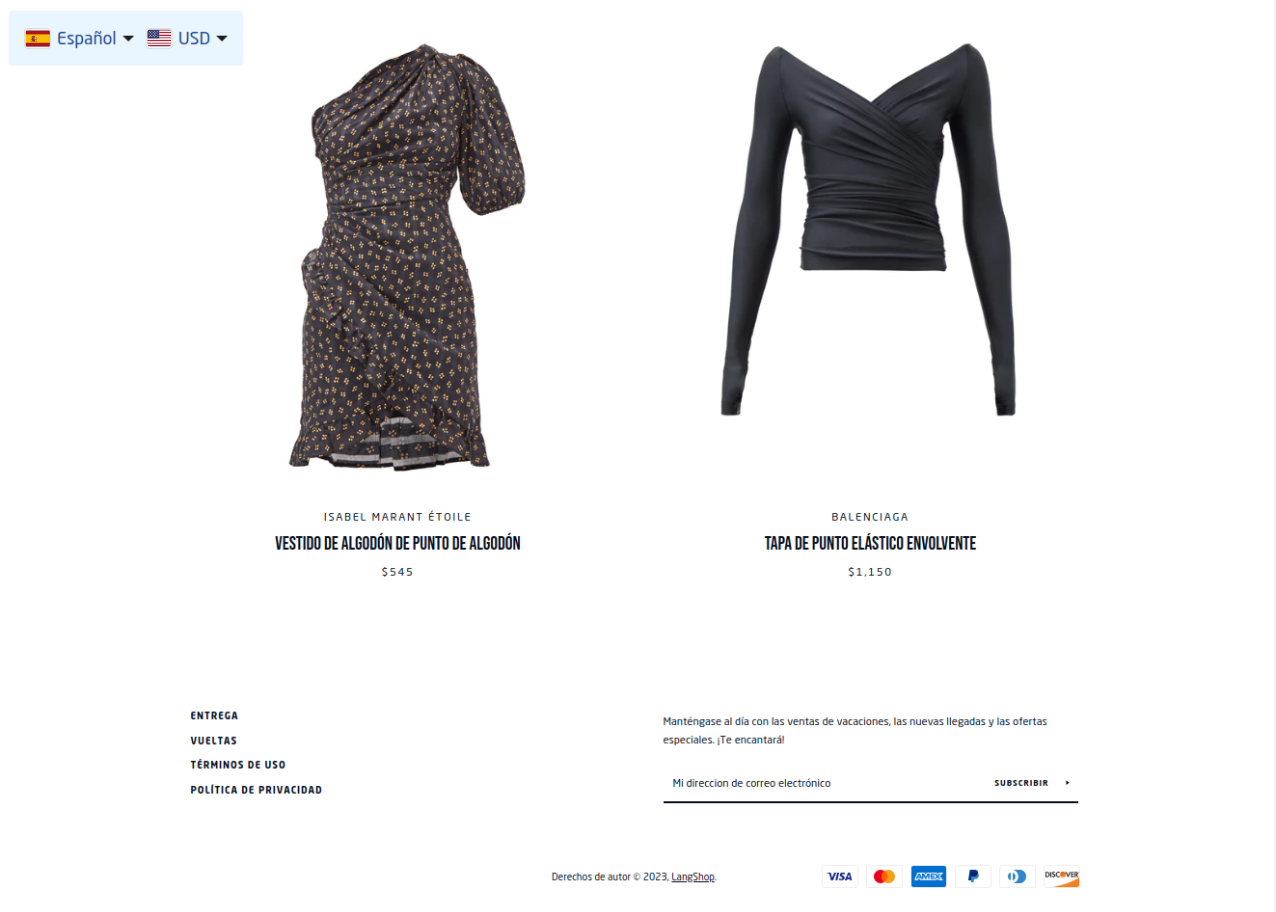 Reason 5: Currency Conversion for Smooth Selling
LangShop lets you add all 156 currencies to your store, making it easy for shoppers to browse and buy in their preferred currency.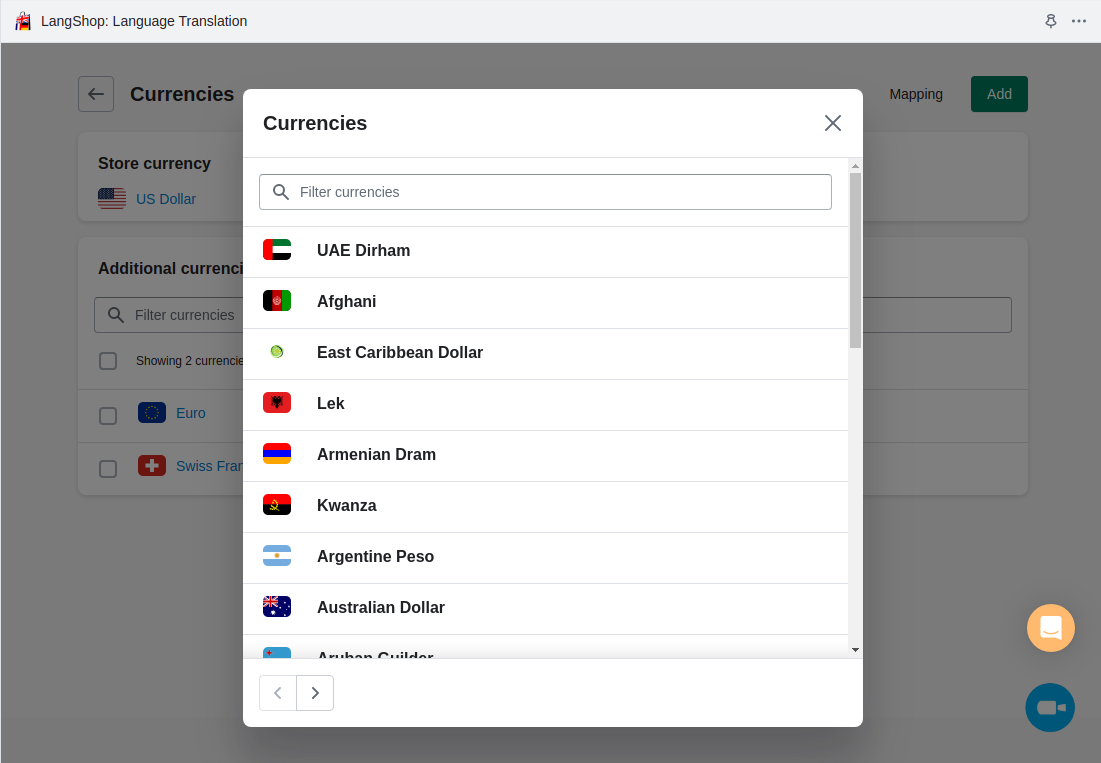 Reason 6: Language and Currency Switcher, Tailored to You
Easily add and customize a language and currency switcher to match your store's style. Tailor it to seamlessly integrate into your store, providing a smooth navigation experience for customers across different languages and regions.
Reason 7: Smart Redirection and Auto-Detection
LangShop can automatically detect customers' preferred language and currency based on their browser settings. Plus, you can set up redirects based on your preferences, ensuring visitors land on the right version of your store. It's like magic, but better!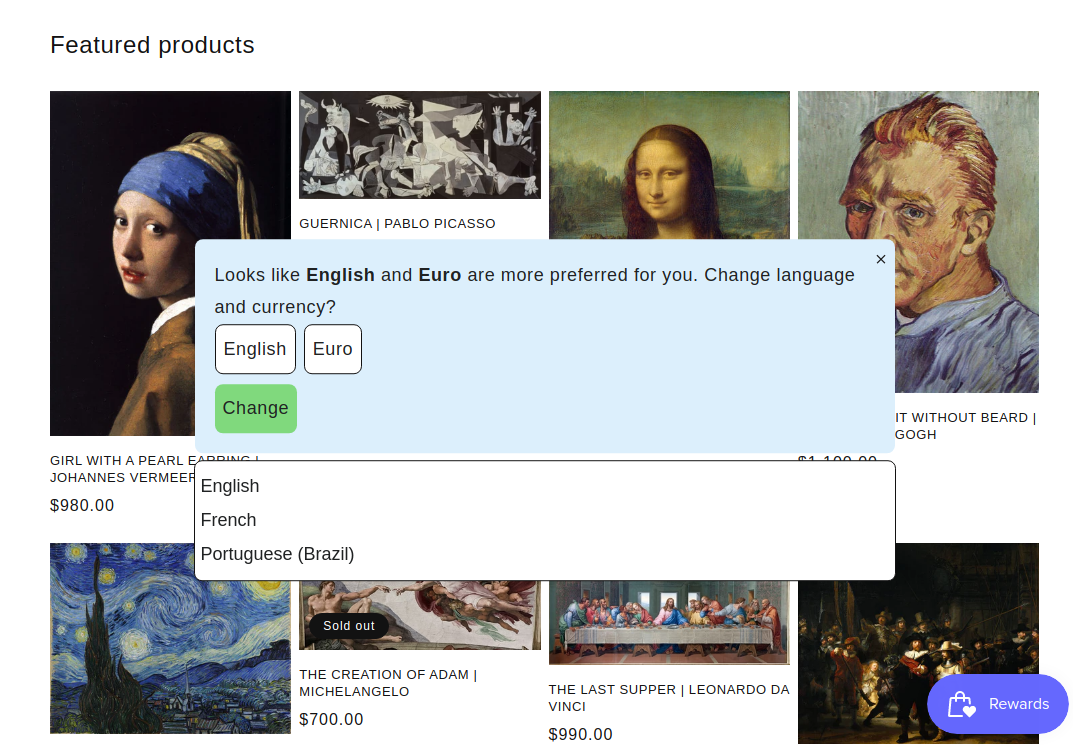 Reason 8: SEO Optimization
LangShop understands the importance of search engine visibility. It takes care of your store's SEO by implementing best practices for multilingual websites. This ensures that your store ranks higher in international search results, driving organic traffic and increasing your global reach.
Reason 9, 10, 100: Additional Localization Features
LangShop goes the extra mile with a range of additional features designed to enhance your localization efforts. From an analytics dashboard to track the performance of your translations, to a glossary for consistent terminology usage, LangShop provides comprehensive tools to streamline and improve your localization process.
But these are just words, let's see LangShop in practice.
How to translate an entire store using LangShop
LangShop seamlessly integrates with Shopify, which allows the app to translate your entire store. All you need is to follow these simple steps.
Step 1: Find and Install LangShop
Start by heading to the Shopify App Store and find the LangShop app. Once you've located it, click that install button and let the magic begin. The app will quickly integrate with your Shopify store, setting the stage for your multilingual adventure.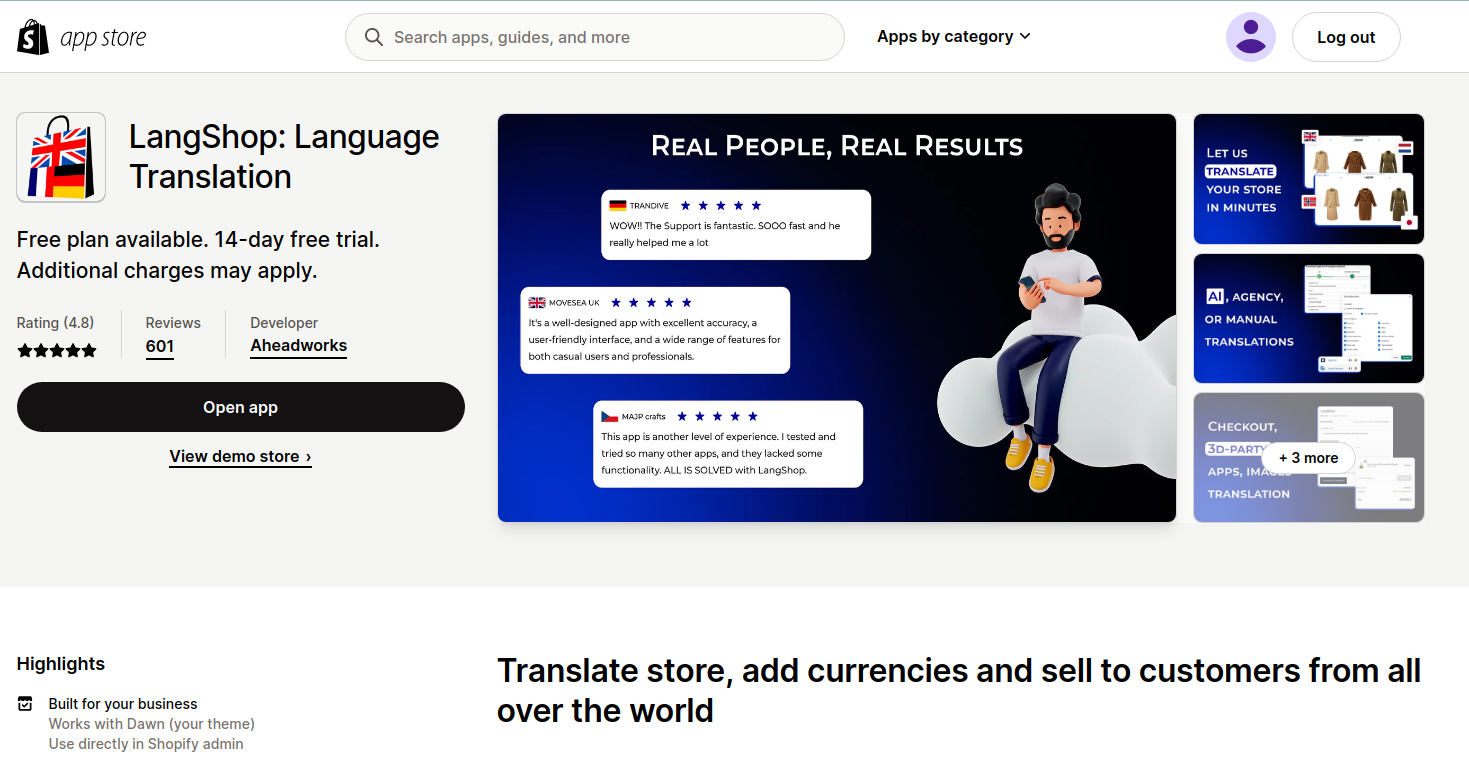 Step 2: Choose Your Pricing Plan 
LangShop offers five pricing plan options, allowing you to select the one that best suits your needs and budget. Whether you're just starting out or managing a thriving e-commerce empire, there's a plan for you. Take your time to explore the options and make a choice that aligns with your preferences.
Step 3: Add and Publish Languages 
With LangShop, you have the power to select the languages you want to add to your store. Once you've chosen your preferred languages, it's time to connect these languages to your store domain and publish them, ensuring they appear on your live store for customers to see.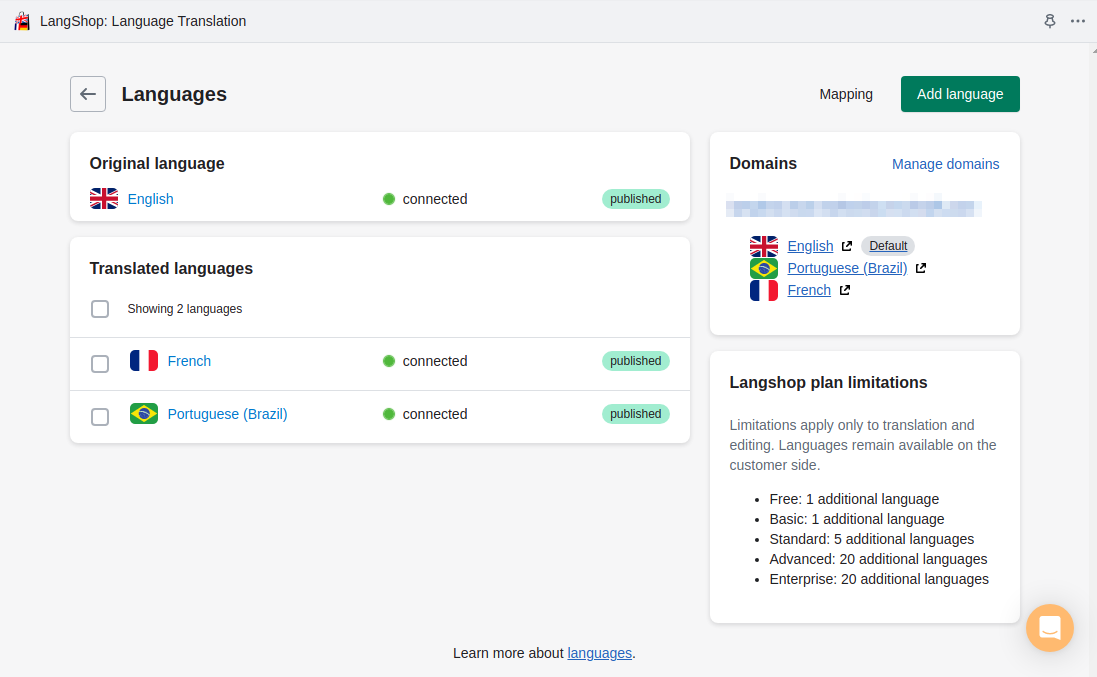 Step 4: Translating Your Store 
Now comes the exciting part – translating your entire store! Navigate to the LangShop admin panel and head to the Translations section. Here, you'll find a treasure trove of resources waiting to be translated. From products and collections to pages, dynamic text, and storefront elements, LangShop covers it all.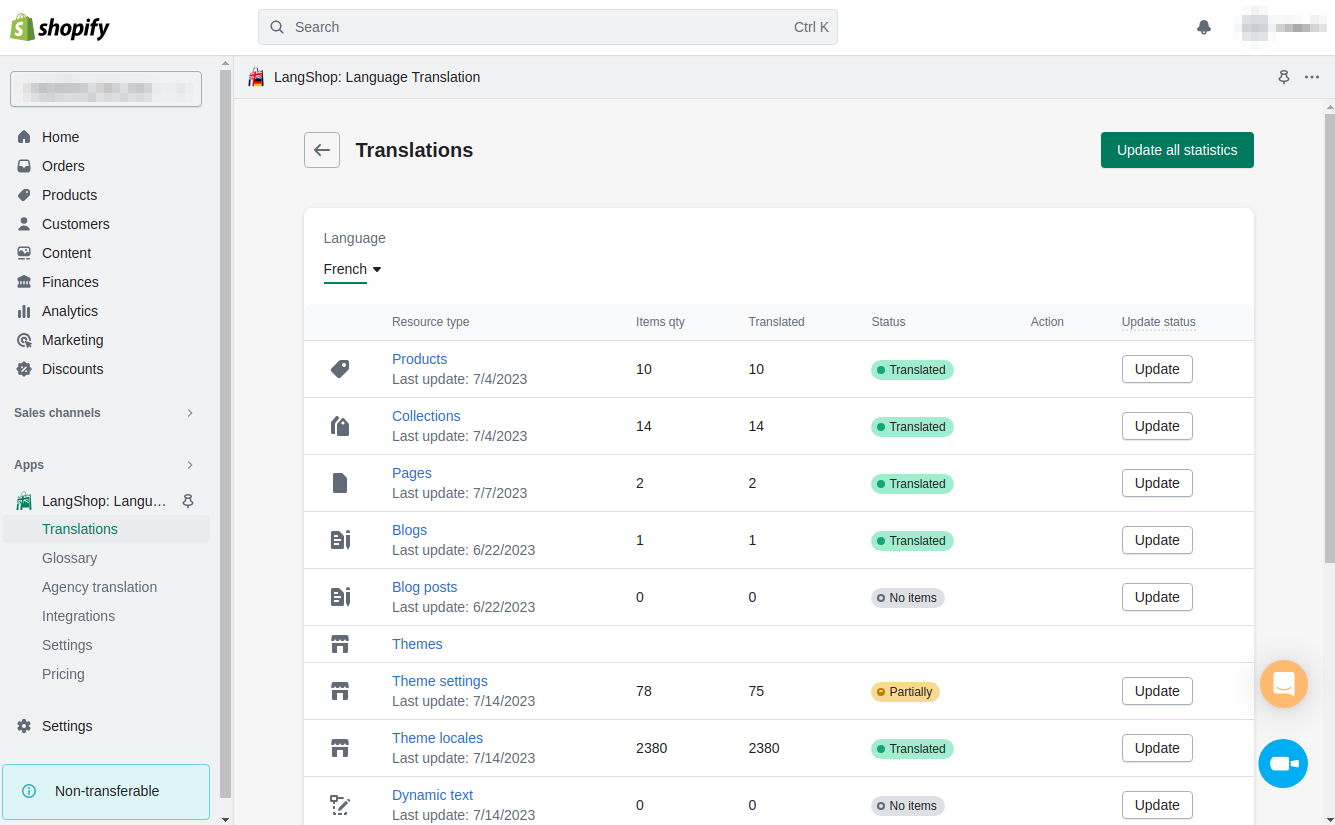 To translate, simply select the items you wish to localize and click the "Translate" button. Here you can specify what translation engines you want to translate with: Google Translate, DeepL Pro or Standard engines for machine AI translation. If you're seeking the highest quality translations, you can opt for agency translation by clicking "More actions" and adding it to your cart. It's that simple!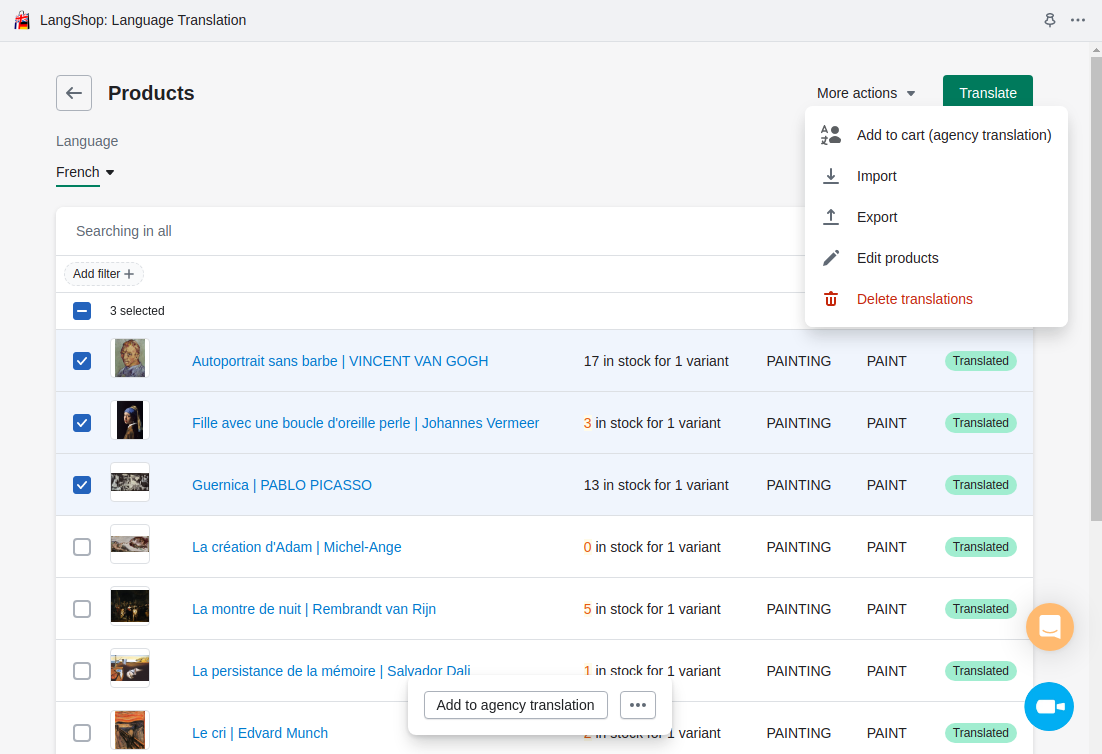 Translating your entire store with LangShop is just the beginning. To explore more guides on translation and other localization options available on LangShop, make sure to visit the Help Center. 
More alternatives for Shopify store translation
If you're looking to explore more options for Shopify translation apps, we've got you covered! Here, we've gathered a list of popular alternatives that can help you localize your store and reach global customers. Take a look at these options to find the perfect fit for your business.
| | | | | | |
| --- | --- | --- | --- | --- | --- |
| | Free plan is available; Paid plans start from $10 | Supports 247 incl. Right-to-left languages | Currency conversion, unlimited dialect variations of the same language, language and currency switcher, auto-detection and redirection, etc. | Pricing plans include limitations on the number of languages | |
| Shopify Translate & Adapt | | Almost all languages available on Shopify except for Arabic, Hebrew and 14 more languages; 32 for themes, checkout and system translations | Dialect variations of the same language | Allows auto translation of 2 languages only | |
| | Free plan is available; Paid plans start from $15 | | Language redirection, custom languages | Pricing plans include limitations on the number of languages, and the number of translated words | |
| | Free plan is available; Paid plans start from $11.90 | | Currency conversion, language and currency switcher, language and currency auto switch | Pricing plans include limitations on the number of languages translated, and the number of currencies | |
| | Free plan is available; Paid plans start from $9.99 | | Auto-detection, currency conversion | Pricing plans include limitations on the number of languages, and the number of translated items | |
1. Shopify Translate & Adapt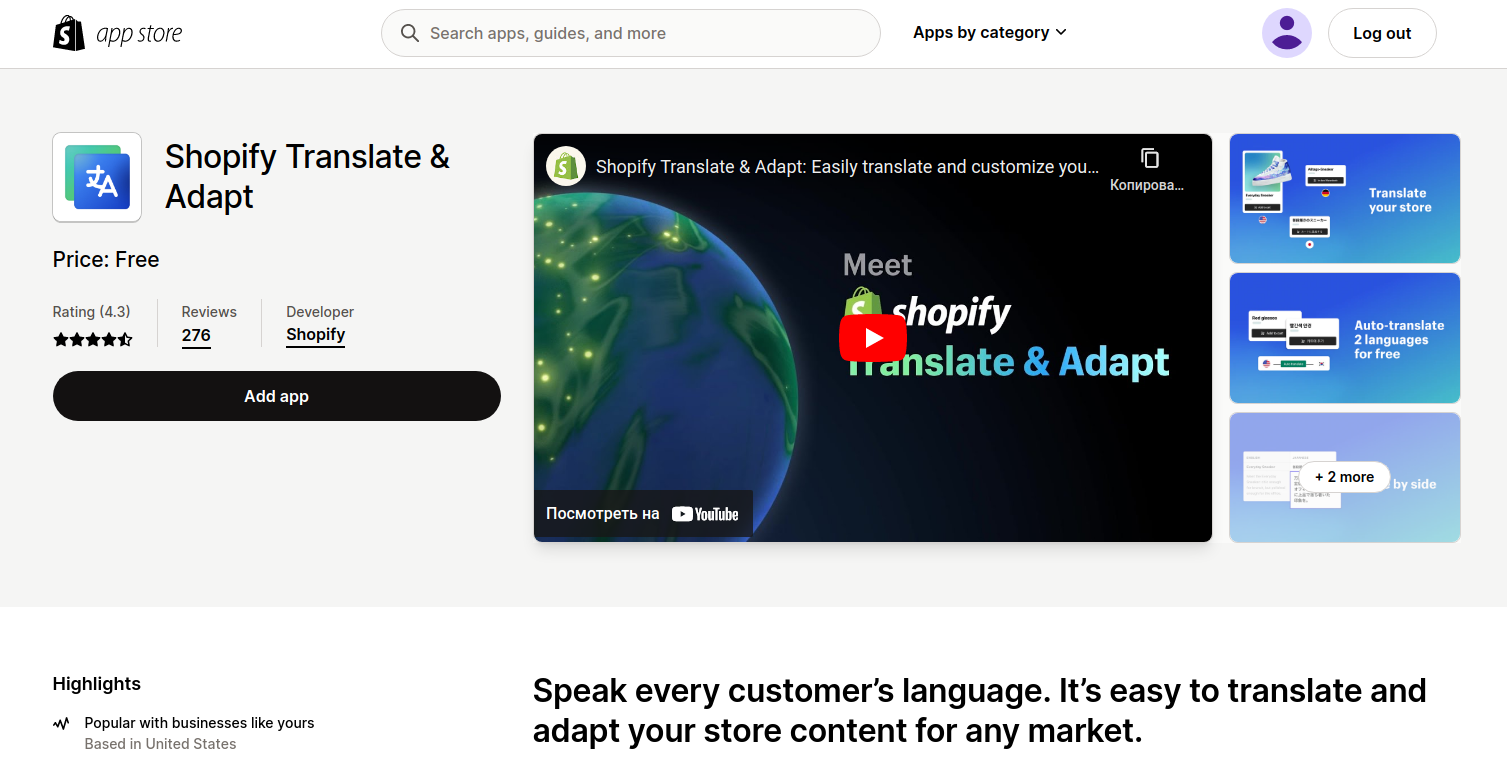 Shopify Translate & Adapt allows you to speak every customer's language with easy content translation. With it, you can auto-translate up to two languages for free, and add unlimited manual translations.
Auto translation of 2 languages with Google Translate;

Unlimited manual translation;

Side-by-side editor;

Custom translation of the same language for specific market.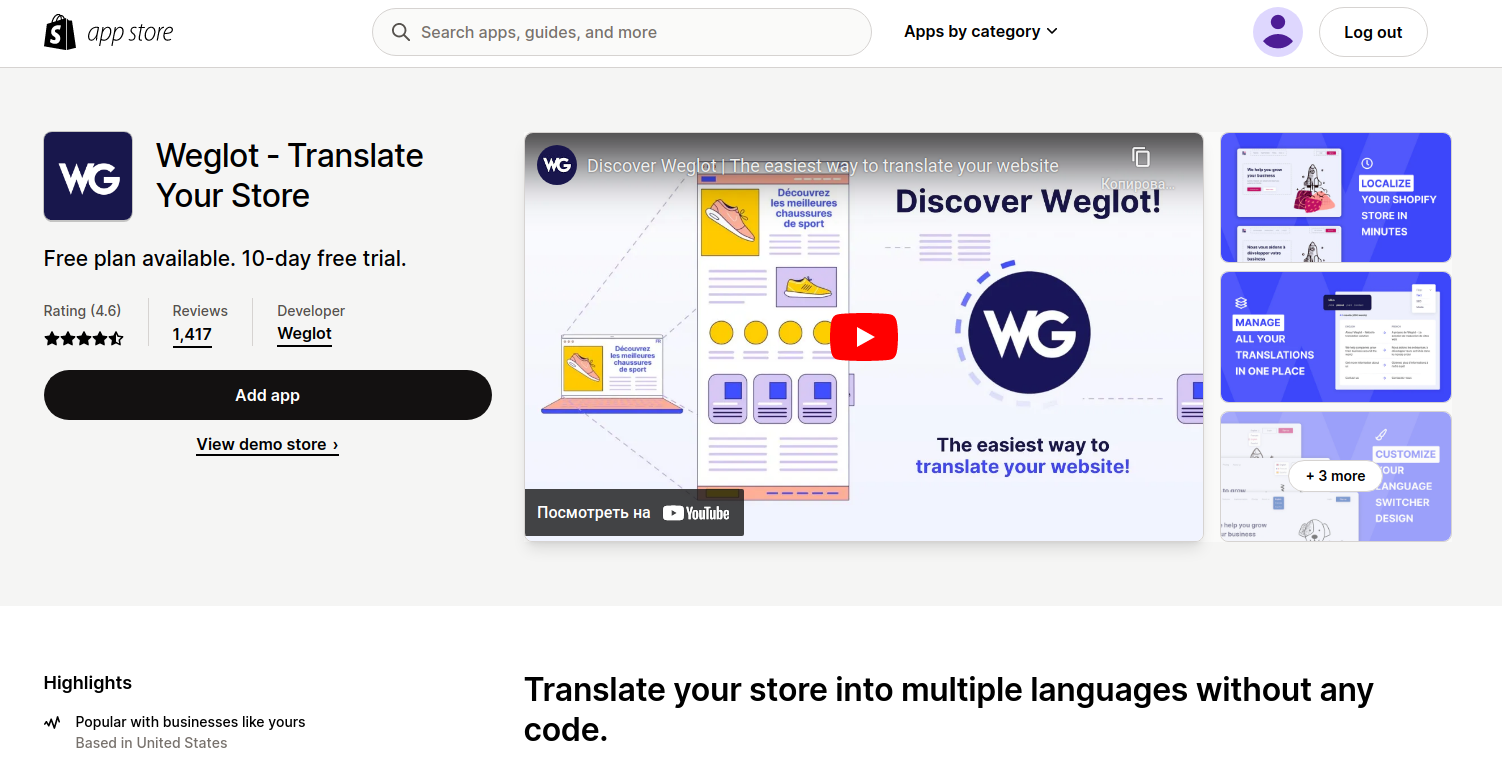 Weglot offers seamless integration with Shopify and provides automatic translation of your store's content. Weglot has an intuitive interface and a wide range of localization features.
Machine translation with post-editing features;

Agency translation;

Visitor language redirection;

Glossary.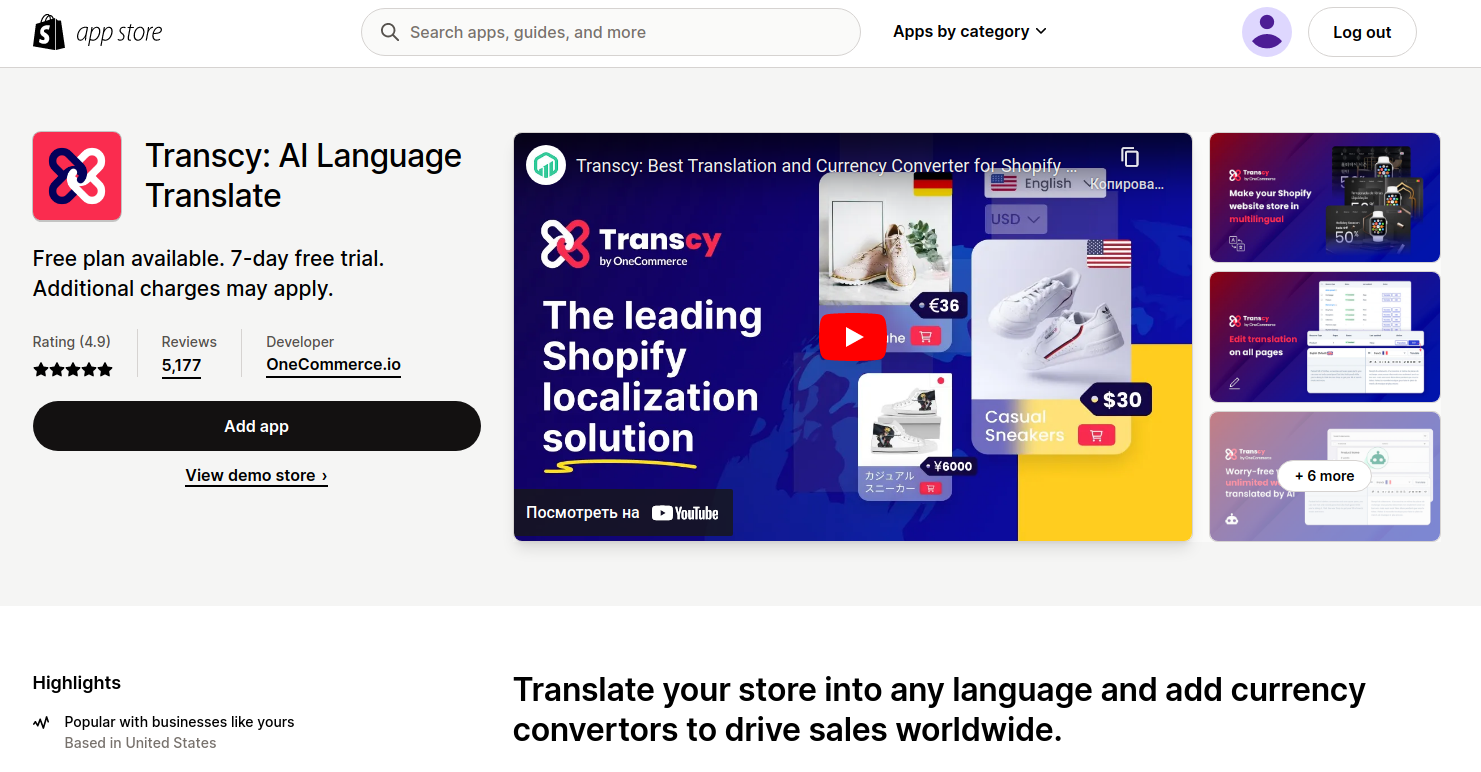 T Lab offers both automatic and manual translation options. With its extensive language coverage and additional localization features, this app enables you to enter international markets easily.
Auto translation, manual and agency translation;

Currency conversion;

Language and currency switchers;

Glossary.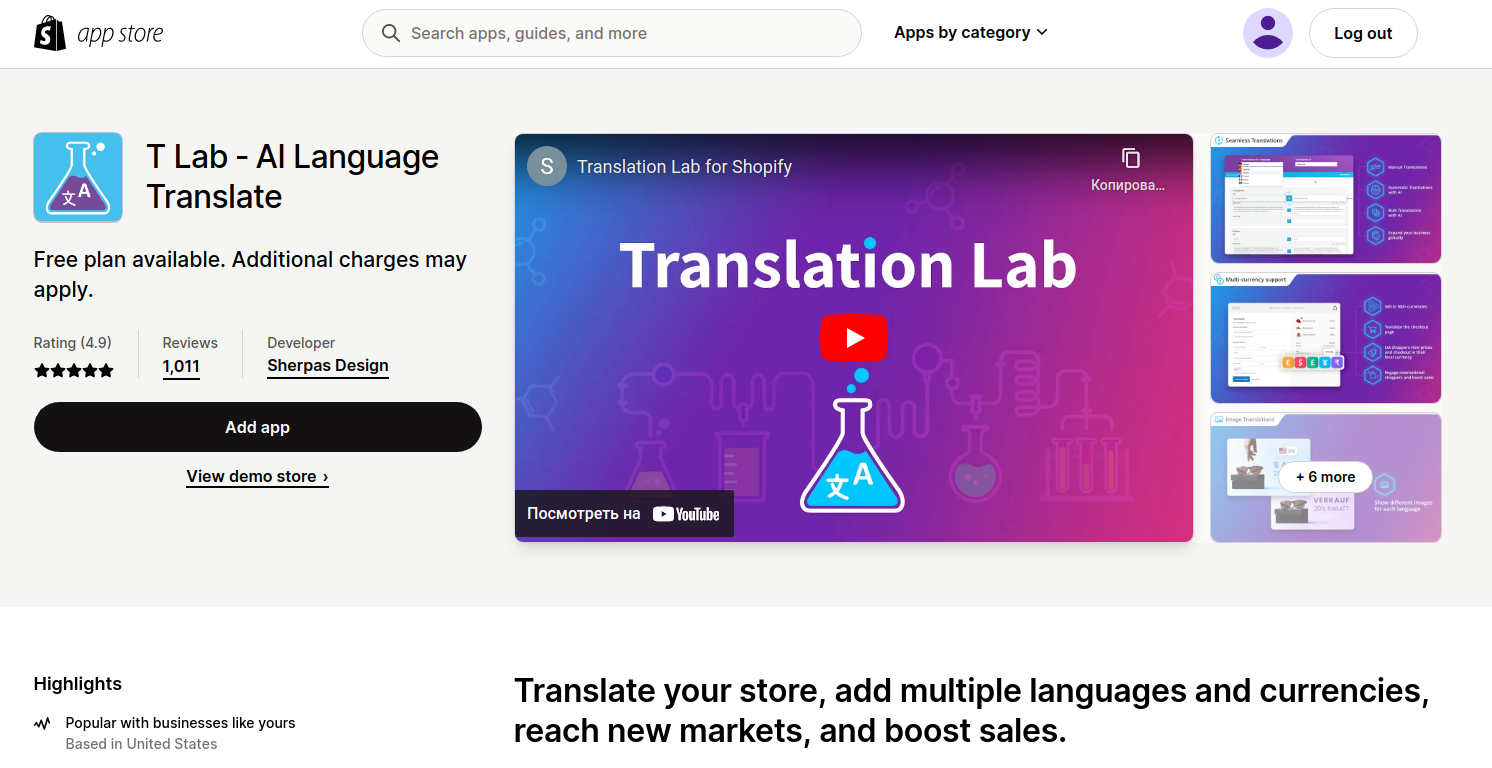 Transcy is also an app that specializes in translating store's content. With support for over 100 languages and a wide range of translation options, this app makes it easy to create a multilingual shopping experience.
Translation of products, collections, images, 3-rd party apps, etc.

Currency conversion;

Bulk AI translation;

Browser language detection.