Why should you use a translation app?
Ecommerce business nowadays requires a huge effort and capital investment to consolidate its positions in the market. Merchants have to look for new approaches and opportunities to expand their markets and increase revenue. To remain competitive, clear and distinct communication becomes indispensable. That's why multilingual content turns out to be a significant part of success.
Multi-language content contributes a lot in three core merits for any business:
Foreign Customers Engagement

Revenue Growth

Brand Reputation Maintenance
Shopify is the best platform for creating a multilingual online store, as it offers the translation option with the help of different translation apps. Merchants are allowed to choose the most suitable one, which meets their needs and financial capabilities.
In this article, we'll describe the 7 most popular and productive translation apps for Shopify stores and identify their advantages and disadvantages. Besides, the honest comparison needs all aspects to be included, so the pricing and core terms points are also mentioned. Let's get it started!
ADD UP TO 20 LANGUAGES TO YOUR SHOPIFY STORE!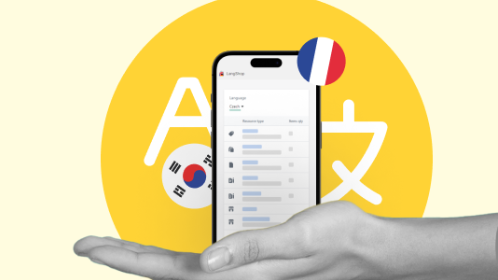 7 Best Language Translation Apps for Shopify Store in 2023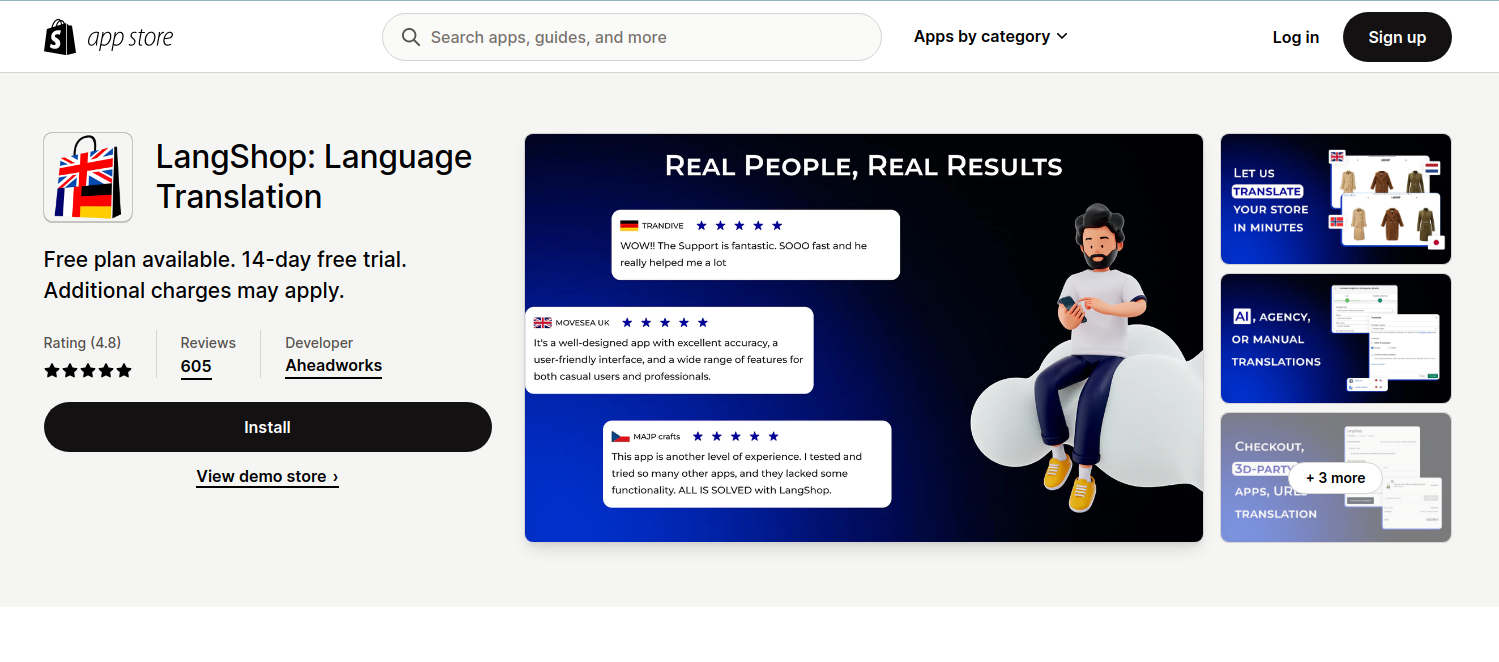 The

most diverse translation options

:
AI machine translation

is performed by several top translation engines, with the option to choose the

translation suggestions

from each of them. 

Pro translation is offered thanks to the

integration with Google Cloud Translation and DeepL Pro

- is used to deliver translations of higher quality.

Manual translation

allows you to edit translations to make them more accurate.

The possibility to

order agency translation

right inside the app to get your content translated manually by professionals.
2. With LangShop, you can translate ALL your store content, including the checkout page, email templates, third-party apps content, AND Shopify metafields.
3. Supports 241 languages (including RTL languages) and 156 most popular world currencies. The app sets no limits on the number of words & pageviews. 
4. Integration with Native Shopify Translation API.
5. Translation history is available forever to have a full track of changes made. 
6. A language and currency switcher is available on any plan. It can be easily customized to go perfectly with your store design. 
7. Multilingual SEO means that you will have a unique URL for each language, meta tags, descriptions, etc. detected and translated. Multilingual alternate links "hreflang" are added to each language version of the page.
8. Detects visitors' location & displays their preferred language and currency of the store automatically at their first visit.
9. Integration with Shopify Markets allows users to customize translations of the same language for different markets (e.g. trousers for British, pants - for American). It's a great opportunity to reflect dialect peculiarities of the same language without paying for an additional language unit. 
10. Allows you to Export/Import translations.
11. Integration with Shopify Flow makes it possible to automatically translate new products and collections saving your time and effort. 
12. Glossary for accurate translation of brand names and terms.
1. Doesn't provide automatic translations of all store components on the Free plan.
Pricing: Free plan available. Paid plans start from $10/month with a 14-day free trial.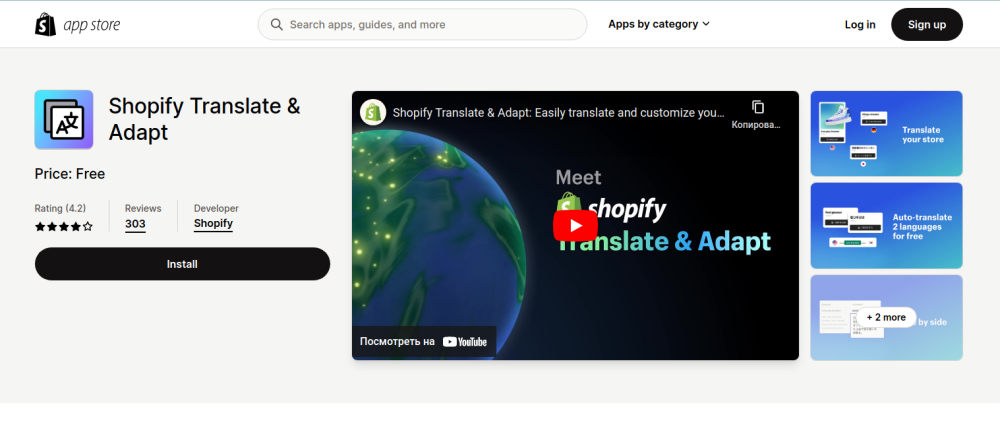 Auto-translate 2 languages

with the help of Google Translate.

Unlimited manual translation

with side-by-side editor to compare with original text.

Supports

almost all languages

available for Shopify except for Arabic, Hebrew and 14 more world languages.

Adapt translation of the same language

for different markets (e.g. biscuits for British, cookies for American). 

Seamlessly manage translations from your Shopify admin.

Localization is possible right from the theme editor

or any resource page in your admin.
1. Only 2 languages for auto translation, with no option to auto translate more languages.
2. No option to translate newly added products and collections.
3. Human translation is not available.
4. No additional localization features such as switchers or language redirect.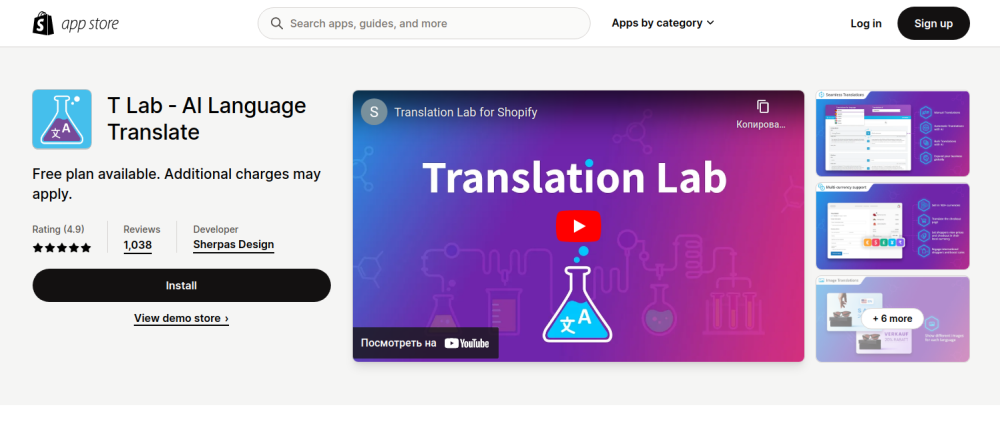 Translation Lab provides both

AI-powered automatic translations

and

manual translations

allowing you to edit translations if needed.

Supports

160+

world

currencies

. 

Supports

Native to Shopify translation API

to seamlessly translate Shopify store components.

With Translation Lab, you can

translate all pages in your store

,

including checkout.

Detects the preferred language

of your store visitor

and loads your store in the most appropriate language.

Supports

import/export

of product translations in CSV format.

Multilingual SEO optimization

.

Glossary

to specify translation of certain words.

You can migrate your theme translations

from one theme to another.
Translation history is unavailable.

Uses only one translation engine, that's why you can't choose from translation suggestions of different engines.

Not possible to order professional human translation.

There are limitations on the number of translated instances per month.

No integration with Google or DeepL, which provide more accurate translations.
Pricing: Free plan available. Paid plans start from $9.99/month - this plan allows you to translate up to 3000 products per month.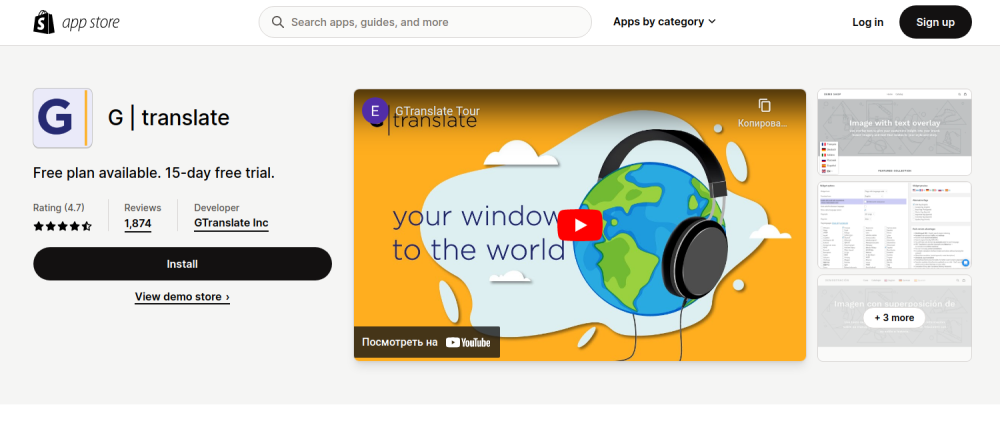 Provides

Google automatic translation

(even on the Free plan). 

No limits

for word count, and the number of page views.

With the app, you can translate

3rd party apps

easily.

Advanced SEO features

, URLs translation, and supports subdomain for each language.

Translates the

checkout page

.

The feature to

add skip phrases

that shouldn't be translated. 

Manual corrections

of translations (only for paid plans).

Analytics dashboard

showing users' activities, top countries, and top pages.
No currencies conversion.

No advanced customizations of the switchers. 

You can't check translation history.

Not possible to order professional human translation.

Allows you to auto translate text, but you can edit these translations only on paid plans.

No diversity of translation engines, limited only to the Google and Bing engines. 

Doesn't support the import/export of translations feature.

Doesn't permit automatic translations of new products and collections.
Pricing: Free plan is available. Paid plans start from $9.99/month with a 15-day free trial.
CREATE A MULTILANGUAGE WEBSITE IN JUST A FEW STEPS WITH LANGSHOP!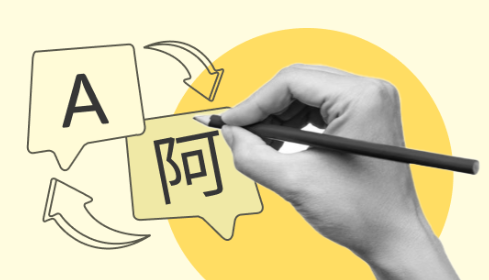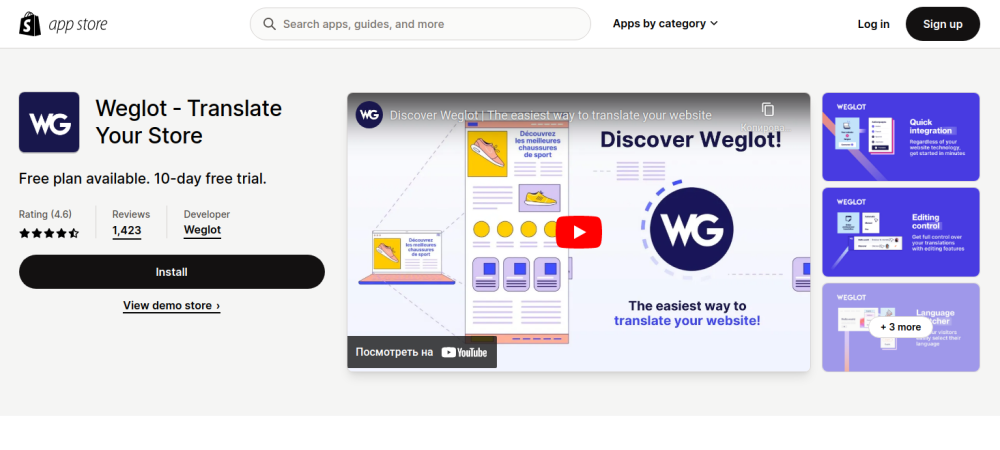 Provides the first layer of

automatic translation

instantly without messing with the code. 

The translated content can be edited

manually

or with

human translation

service.

Supports more than

100 languages

.

Weglot translates

all the store content

including

checkout, email notifications,

and

dynamic content

.

Multilingual SEO

provides unique URLs for Google and

automatic hreflang tags.

New content is automatically

detected

and

translated

.

Possible to customize language button

to fit a store design.
Plans have a limited number of words (up to 2,000 for free, up to 10,000 for the Starter plan, etc.).

No currencies conversion.

No manual translation, only editing. 

When translating anew, the existing content is always overwritten.

Doesn't support third-party app translation feature.

Difficult settings for email

notifications translation.
Pricing: Free plan allows you to translate up to 2,000 words, paid plans start from €15 per month with a 10-day free trial.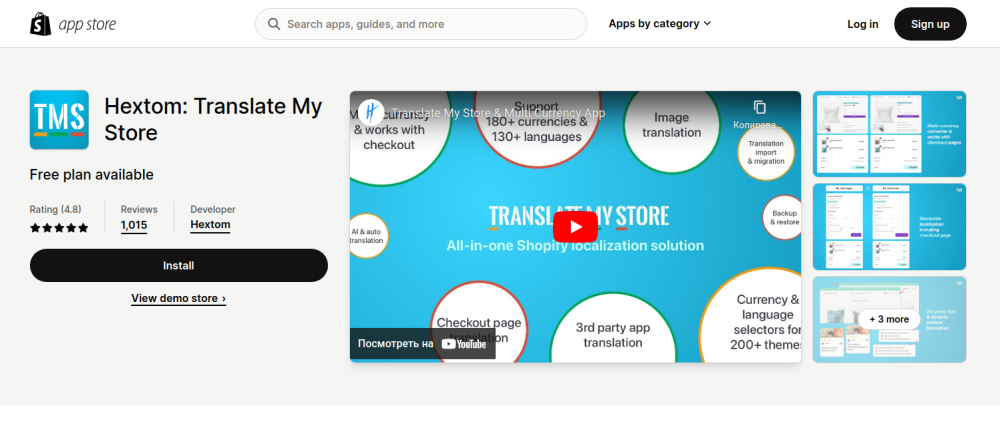 Provides

auto AI translation

, which adds new content translations automatically.

The app's

selector

supports

160+ themes and counting

, with language & currency auto-redirection.

Hextom: Translate My Store is

SEO-friendly

, as translations are recognized by locale-aware URLs.

Integration with Shopify, which renders translations and

optimizes

the app work.

Translate My Store & Currency offers in-app

CSV/Excel export-import

. 

It's allowed to

set glossaries

, so the app could translate proper nouns correctly.

Detects and displays language based on a website visitors' browser language.

Integration with 200+ 3-rd party apps.
There's no integration with translation agencies, you have to search for the translator yourself.

Doesn't translate some image types (theme hero images, etc.).

Doesn't translate tags, vendors, and product types.

While this platform automatically translates your site, it is not uncommon for language errors to occur.
Pricing: Free plan is available. Paid plans start from $9.99 per month.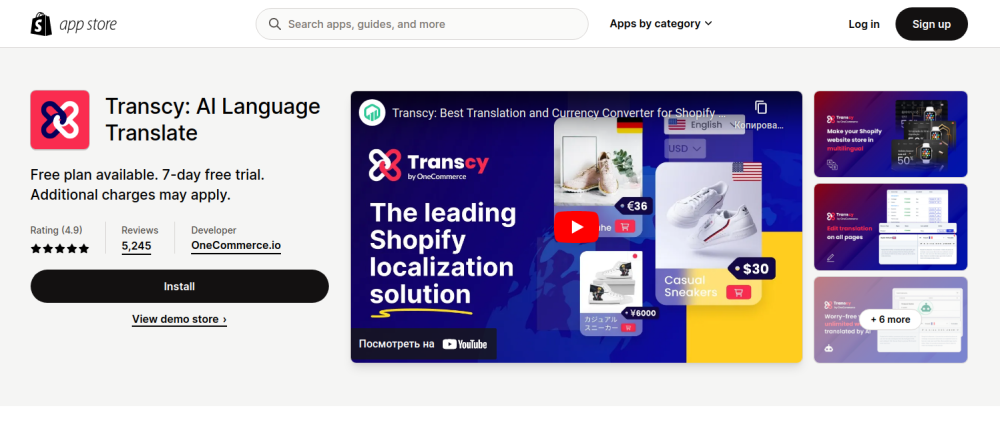 AI machine translations

of your store content

without the limits

on the number of words & pageviews. 

Auto update translations and replace images.

Supports

111 languages and 167 currencies.

Using Transcy you can

translate all kinds of content

:

Homepage, Collection pages, Product pages, Cart page, Checkout page, Blog, Articles.

Google API and Shopify language API integration

.

Translates content from

3rd-party apps

(reviews widget, notification, pop-ups, shipping bar, and so on).

Image Translation,

which means you can

add a specific image for every translation

Customizable switchers

to perfectly fit your store design. 

Follows the

best SEO practices

so that search engines index your store in every additional language.
Manual editing of the translations is restricted by the pricing plans.

Doesn't support translation history.

There is no possibility to browse through translation suggestions from different translation engines, to choose the best one.

Import/export of translations is unavailable.

No option to order professional human translations.
Pricing: Free plan is available. Paid plans start from $11.90/month with a 7-day free trial.
There are a lot of translation apps available for Shopify business, the only challenge is in recognizing the most suitable one for your store. The right decision is to define the key features the translation app should have, whether it's price, support service, languages available, or good reputation. Each of these apps has strong and weak points but is considered to be the best on the Shopify platform. 
Be sure to choose the app with multiple features, to fully take advantage of all multilingual opportunities with ease!