When you think about website translation, the first thing you imagine is the translated text. And it's truly the most important part of any multilingual website - foreign shoppers should fully understand what you're selling, the terms of the service you provide and the benefits of the offer shoppers will gain. However, the thing that should be paid equal attention to is localization and personification of your website content. And here media translation plays a crucial role. Why?
In this article we'll answer this question and share some tips on how to translate pictures easily on Shopify. Let's get started!
What is media translation?
Media content is the range of images, videos, PDFs, etc. that businesses show on their website. In fact, this term can include anything from simple screenshots for downloadable files to promotional videos.
Media translation is the translation of the website's media content to help the business to expand foreign markets and engage foreign audiences. It is the best way to show international customers that business respects cultural peculiarities of their motherland and is ready to invest in content localization so that shoppers can fully understand the offer.
Of course, among other media, images have an exceptional value. First of all, it's because they're more widespread on websites in comparison with the other media content: you can find a lot of images on product pages, collections, blog posts, etc. Also, images are the most viewed type of content, because they are easier to perceive than text and require less time to load in comparison with videos. That's why in today's article we'll pay images the attention they deserve and explore the best way of their translation on Shopify.
Why is it important to translate images?
There are three main reasons to use an image translator:
Content understanding - the pictures may contain text as in the example above, so obviously foreign customers want to see this text in their local language.
Cultural peculiarities - translated and localized media help to avoid wrong interpretation of the message business wanted to transmit. The gesture, colors, clothes depicted - all these should be selected taking into account the cultural sensitiveness of the targeted audience.
Brand perception - image translation also works well for brand perception. It's proven that foreign customers believe brands with fully localized content 3x more. So the images on multilingual websites can have a direct impact on brand reputation and sales.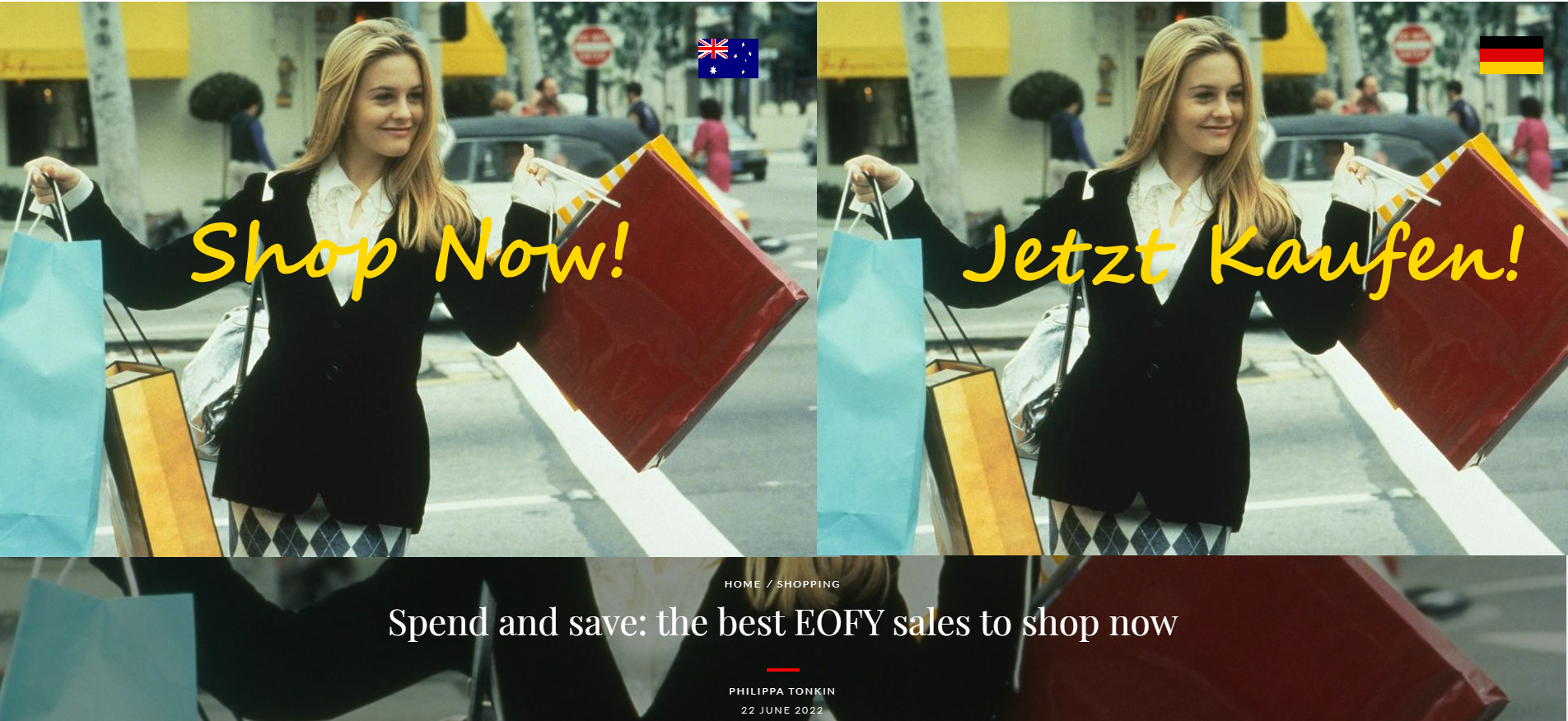 Best practices to follow for image translation
Picture translation implies the translation of all components included into the image, so make sure you haven't missed anything. The following practices can help you achieve the desired result:
The first thing you should pay attention to when implementing an altered version of the image to the website language version is its file name. The thing is that in order not to harm but to  improve your SEO, any altered version of the image you add to the particular version of your website should have a different URL. Hence, the file names of each image version should also be different.
Image text is one of the main components that can affect customer perception and understanding. That's why it's so important to pay special attention to it. The best option here is to use SVG files, which are easy to translate with translation engines.
Also, good practice is to use text over the image not in the image. In this way, written content can be translated while using the same image for different language versions.
The alt text helps search engines to understand what is depicted in the image. It's a good area for keywords, which can improve your SEO. However, different languages may have different keywords, that's why it's important to translate and localize the image alt text and stuff it with relevant keywords for the targeted country.
The image link should redirect to the relevant version of the page. So make sure your German image version is linked to the German web page version if it exists. Same practice should be applied to common links and other kinds of redirects.
How to translate pictures with LangShop?
Shopify doesn't have native functionality to translate or change images. That's why to localize the images on your Shopify store, you'll need a powerful translation app like LangShop. It allows merchants to change media files for additional languages and translate alt text with the help of LangShop theme. 
LangShop theme is a copy of your original theme on Shopify with extended functionality. It's specially created to give merchants an opportunity to translate images, resource tags and static content, which is not possible with the original theme.
LangShop theme is exactly the same template that you can use and customize for your online store, so you don't have to worry about the already added settings and data. Moreover, LangShop theme can serve as a backup in case you accidentally deleted your original theme.
To create a LangShop theme go to Translations > Themes. Here select the original theme you use and create its copy by clicking Actions > Duplicate theme.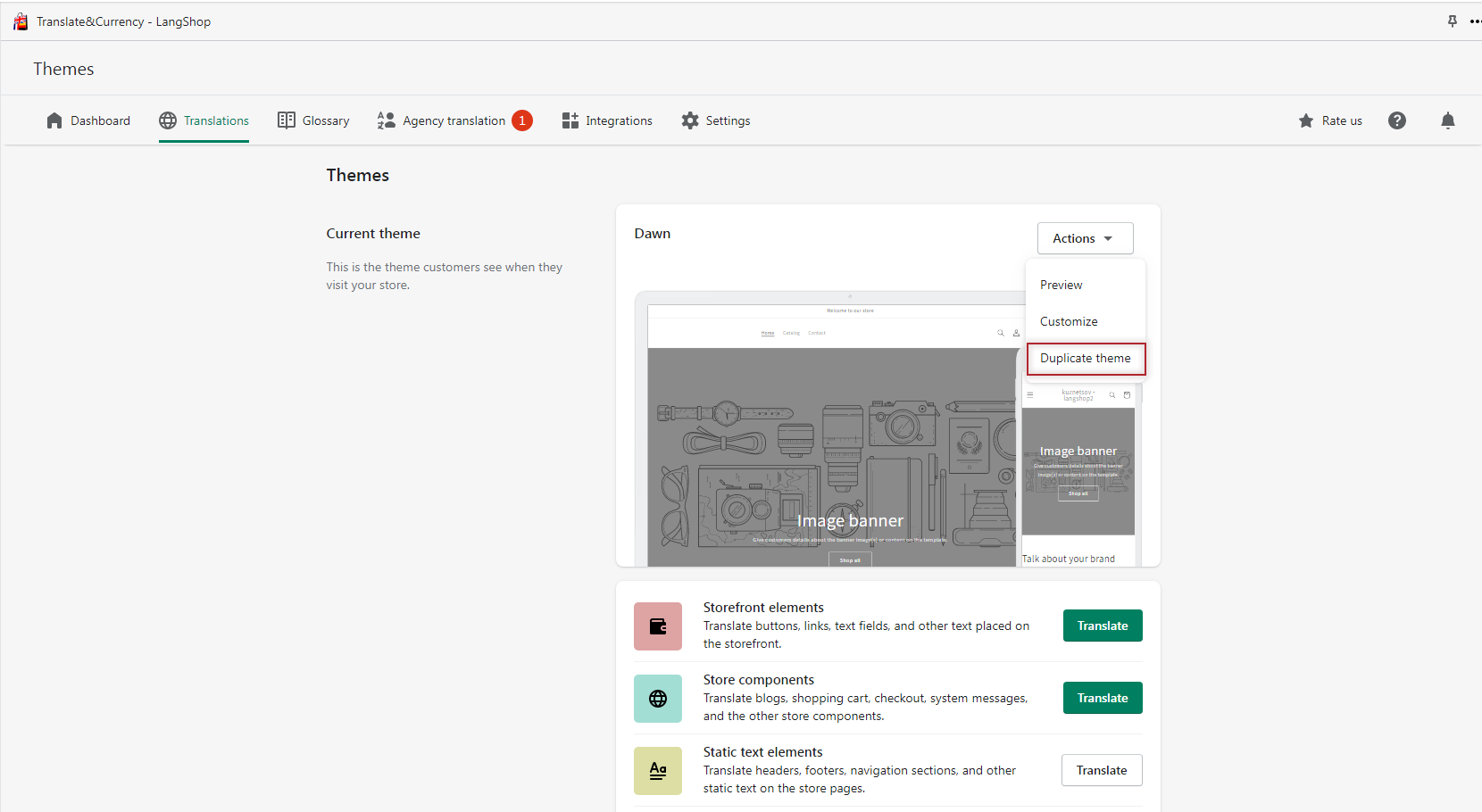 In the popup appeared, you can find information about a LangShop theme. Click create to confirm an action. You can find the created LangShop theme in the More themes section (translations> Themes > More themes). 
Now you can publish the LangShop theme to make static text, tags and image translations visible on the frontend. For it click Actions > Publish next to LangShop theme.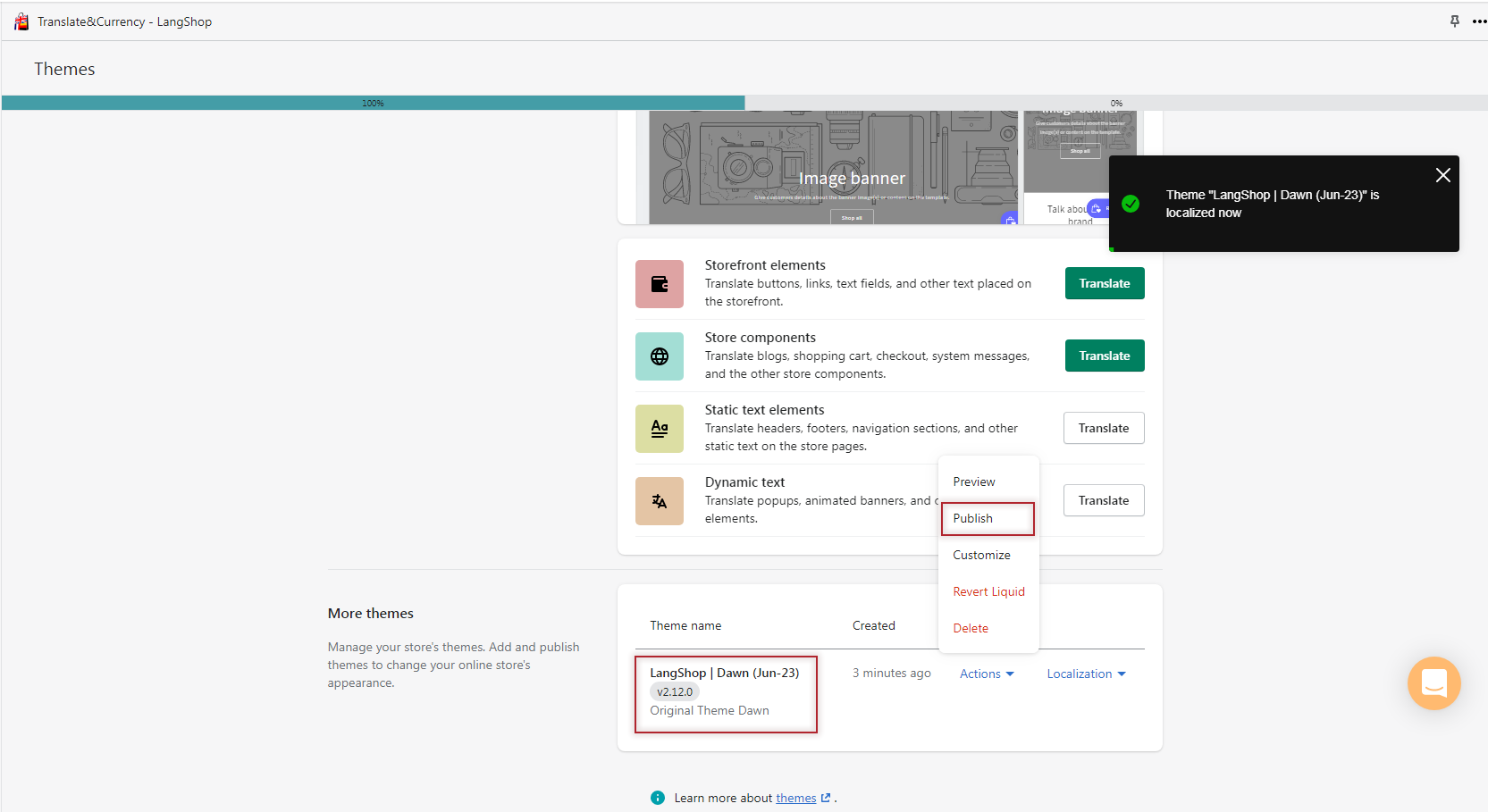 Now, when the LangShop theme has been published, you can change images for different language versions. For it, go to Translations > Products. Choose a product you want to change an image for and a wanted language version. Scroll to the Product images section, where you can change an image and translate alt text. 
Click on the image you want to change and tap Upload new image in the popup. Drop the desired file and select it when uploaded.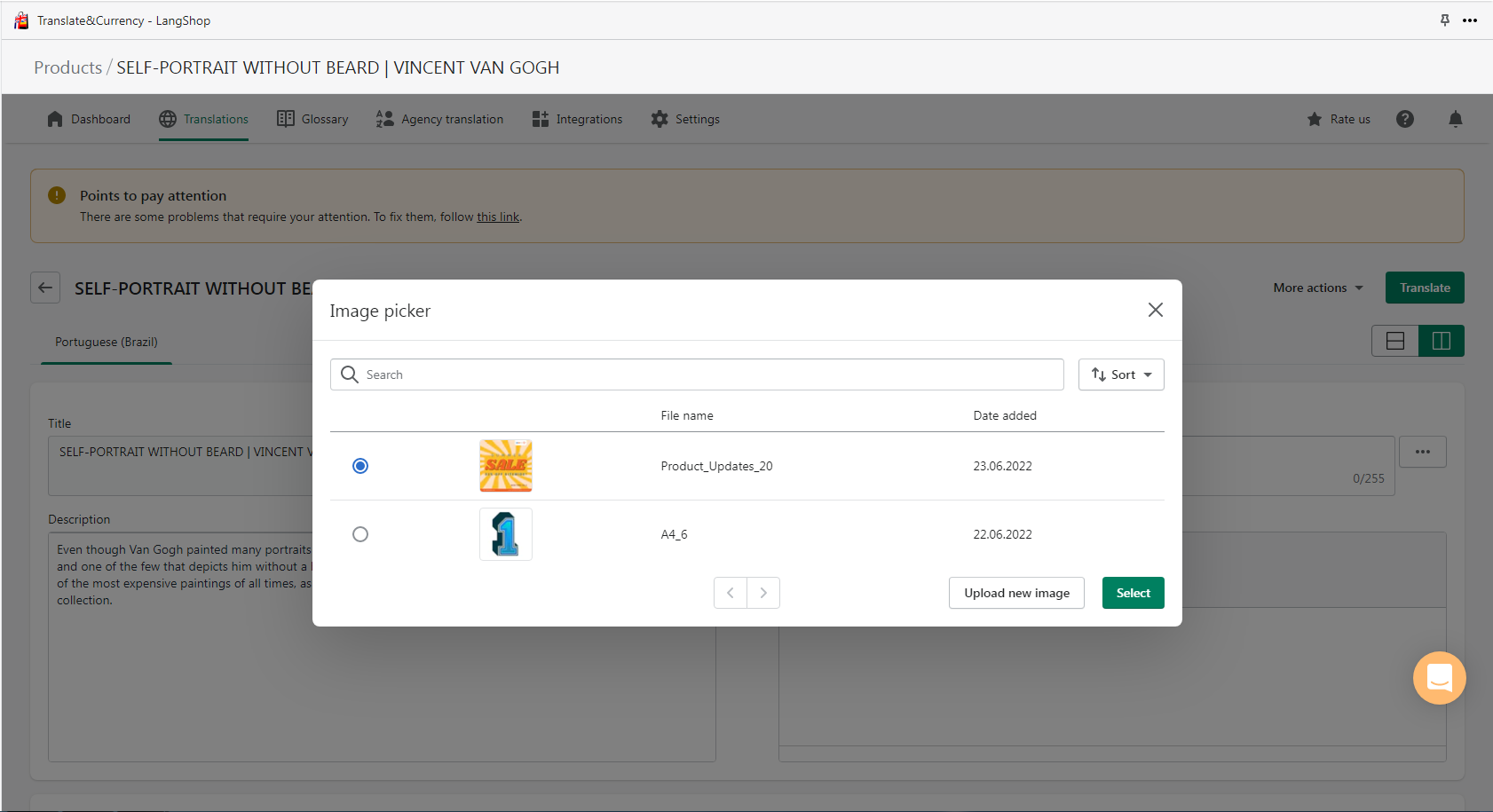 Same way, you can also translate collections and blog images for your online store.
Here, in the Product image section, you can also translate alt text. This will help you fully optimize your images for SEO purposes. For it, click the alt text you want to translate > Actions > Translate.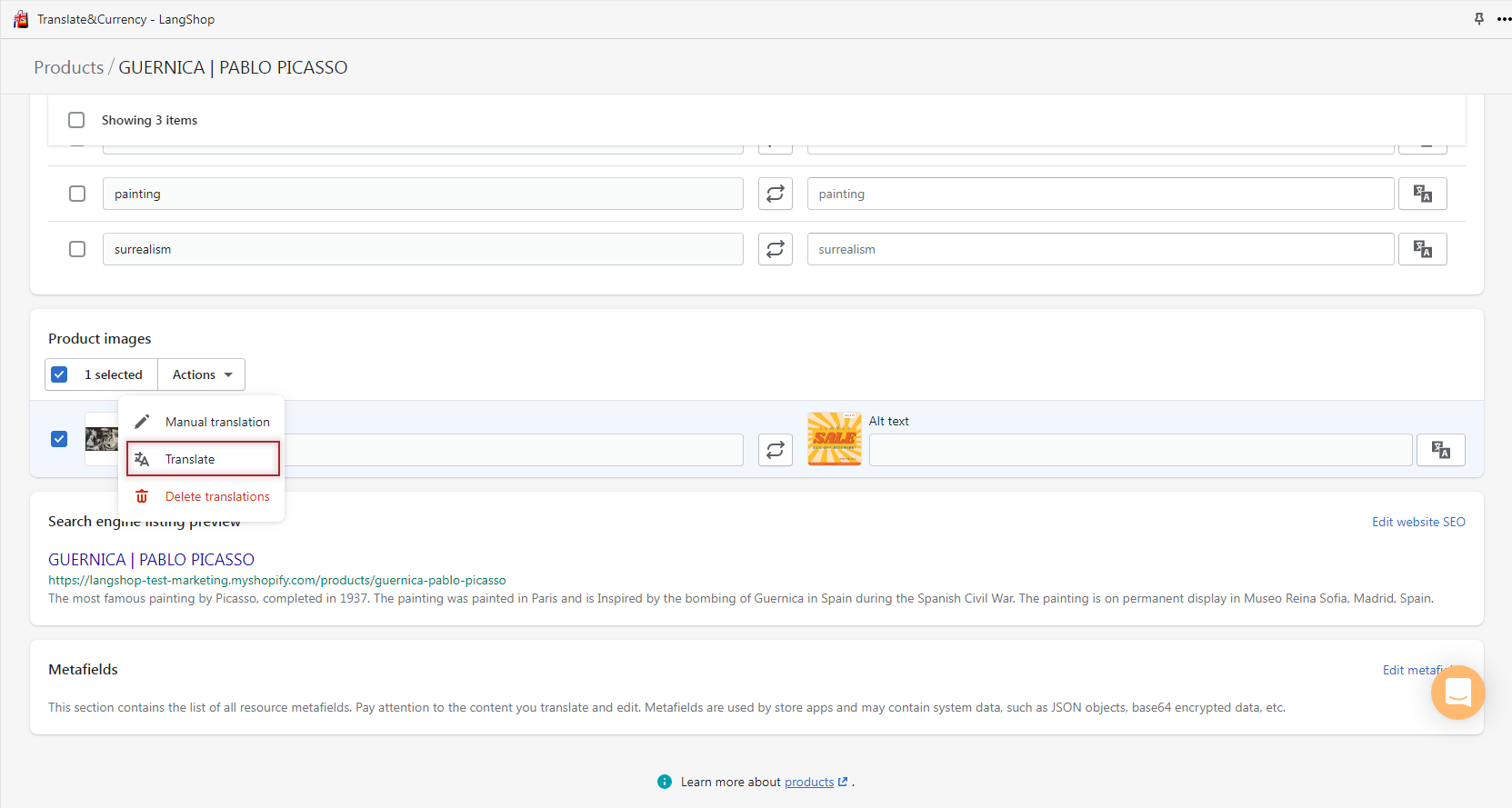 In the popup you can choose translation drivers, enable the overwrite existing translations option and select sections that you want to participate in translation.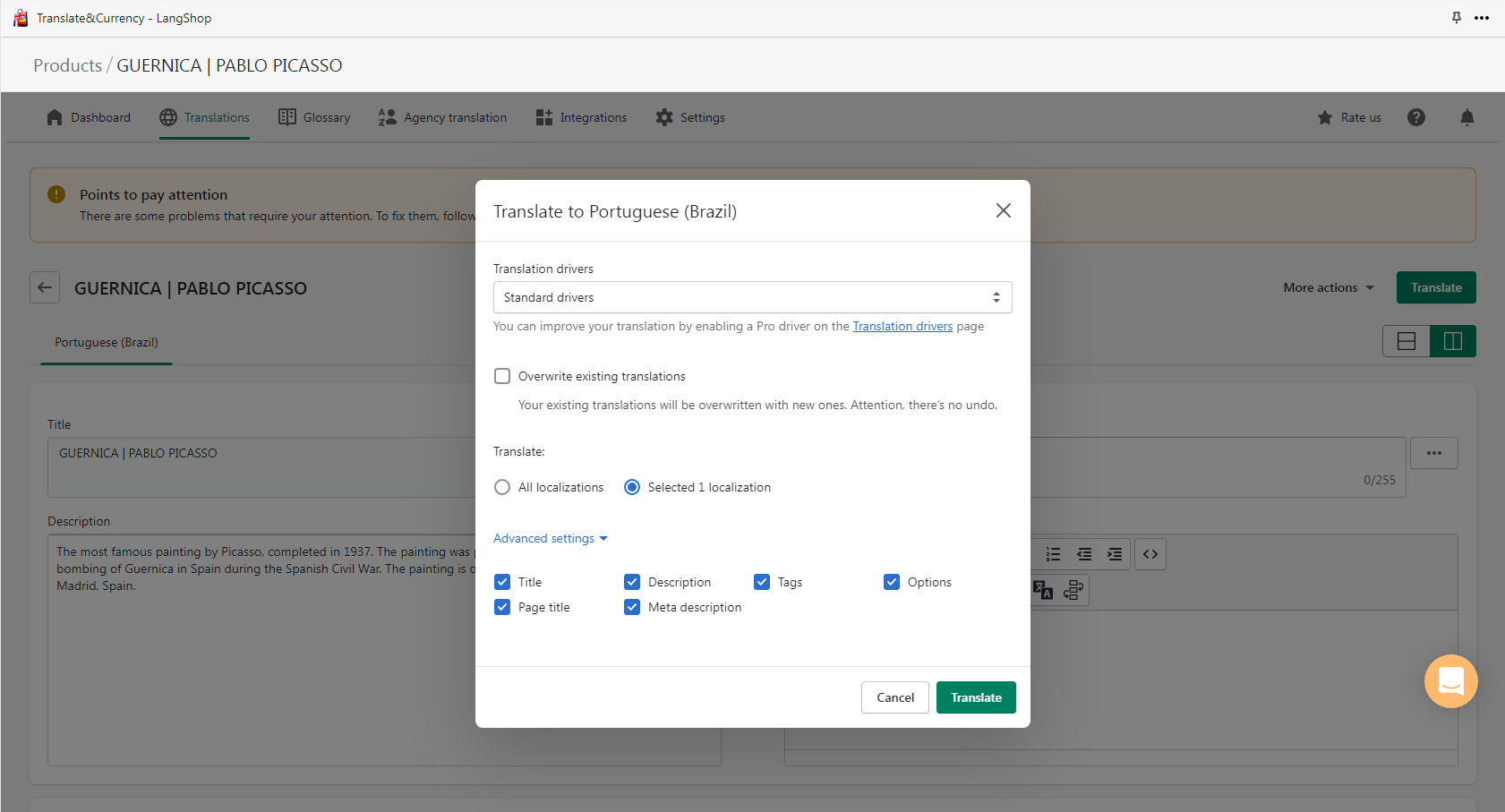 You can also choose Manual Translation.
An exceptional customer-centric service will always find a good response among customers, no matter what country they are from. Media translation is not just about localization for better UX, it's also about better SEO and brand reputation. 
Luckily, there is a simple way to translate website media on Shopify - with the help of LangShop. Install the app from June 28, 2022 to July 4, 2022 and get a 25% discount on Standard and Advanced plans.
Expand your business borders with LangShop.