For any Shopify store owner, calculating costs and profits can be a challenge. Plenty of expenses go into calculating the profits of your online retail store. Doing this manually using Spreadsheets or anything similar can be time-consuming, costly, and an error-prone method.
Enter a reliable profit tracker for Shopify!
Shopify apps can help online sellers manage their stores more efficiently, with apps such as profit tracking, Shopify product sorting, and more.
Profit tracking apps for Shopify are an efficient way to simplify and streamline the process of tracking your exact profits.
Below, we've listed the best profit trackers for Shopify. Let's review and choose the best one for your eCommerce store.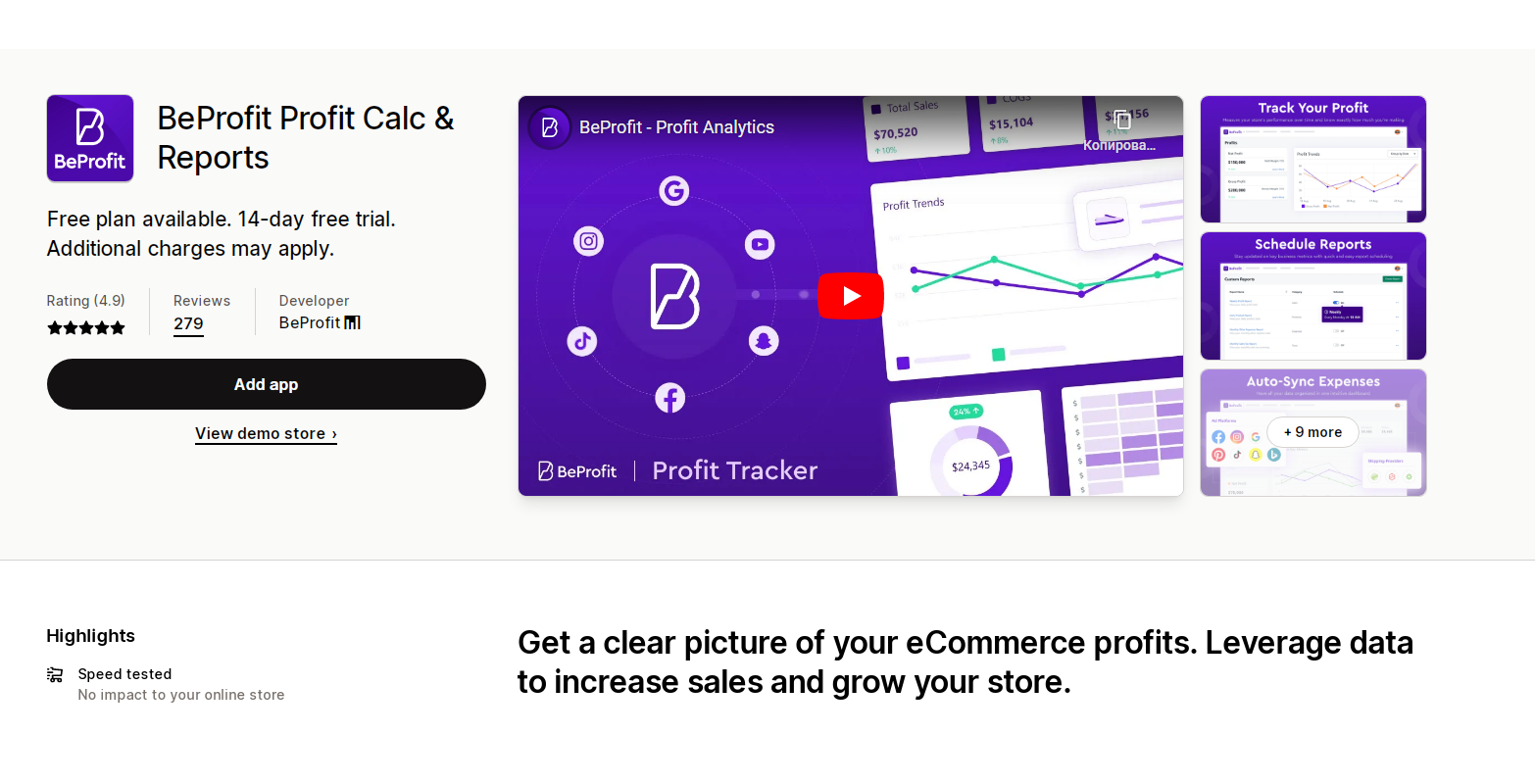 Hands down, one of the best profit analysis dashboards that can leverage your business data and optimize profit for your store is BeProfit. 
The onboarding process for the BeProfit app is fast and easy. Once you've downloaded it, you can start setting up your account with an easy and one-time integration of the ad platforms and shipping profile. 
Thanks to exclusive access to complete business metrics and information, BeProfit is able to offer sellers practical advice on all aspects of eCommerce. You can come up with data-driven decisions by staying updated with the relevant areas of your store, as well as turn business data into actionable insights for better profit. 
BeProfit comes with top-notch features like precise profit analysis, easy data access, and full customizability. It also allows you to keep track of information from multiple sources in real-time and ensure seamless integration. 
The best benefit of BeProfit is that it helps you realize the true potential of your business with the power of data. You can get a complete overview of the performance KPI in one intuitive board and turn complex data into insightful charts. It also comes with a quick and easy onboarding process, so you can start off in minutes.
Pricing: Free plan available, and 14-day free trial for paid plans.
Rating: 4.9.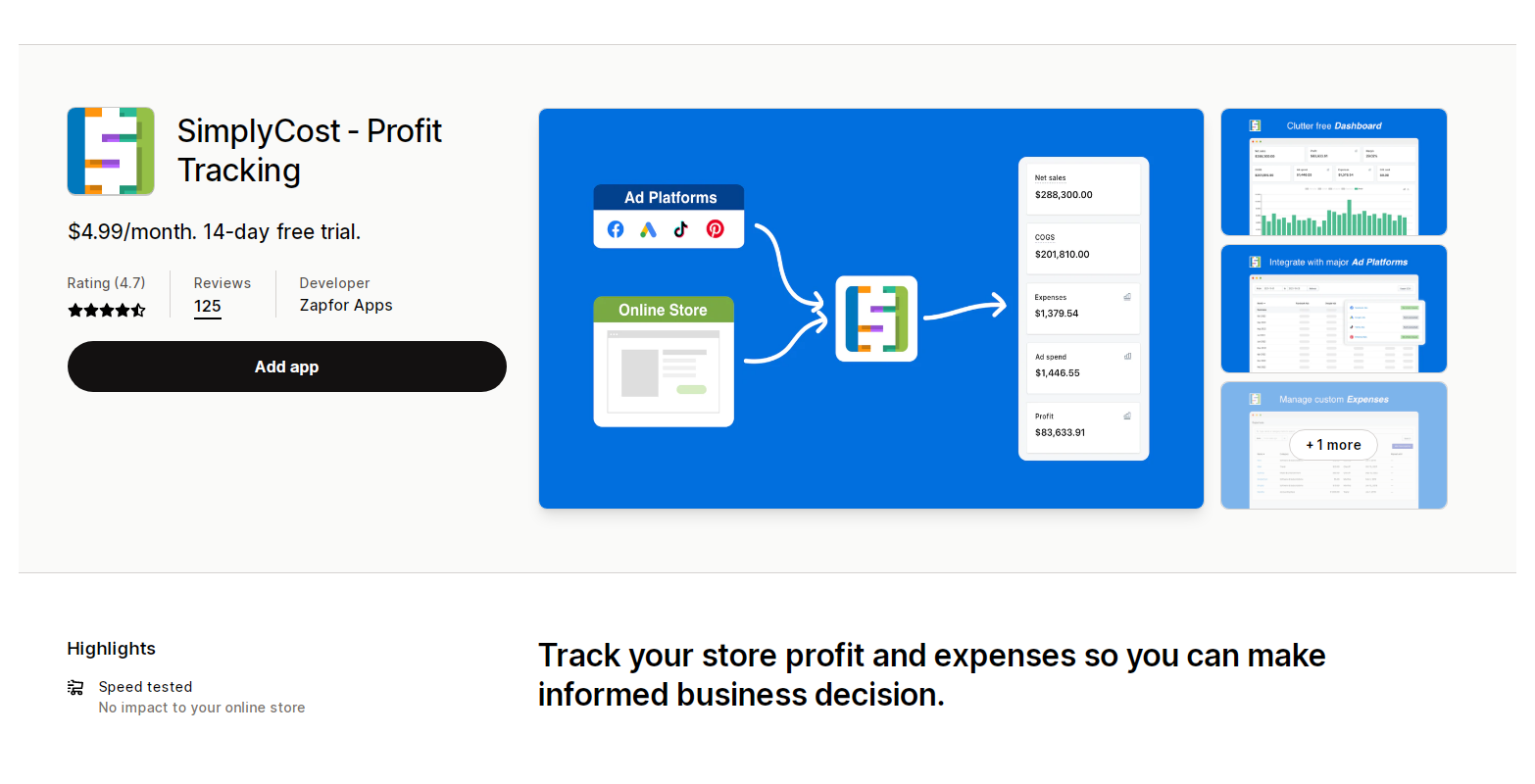 With SimplyCost, you can make informed business decisions based on automated profit calculation and important information about the most profitable factors.
When analyzing profit, its automatic profit calculation feature takes into account discounts, refunds, shipping, and taxes. You can include the cost of the product plus any additional costs for more precise results.
Besides that, it comes with Shopify product cost per item field support, where the app can use the cost per item field of the product as the cost price. It also allows you to update the costs of the sales history. 
Lastly, SimplyCost offers valuable reports by month, day, channel, order, POS location, etc. Worth a try? 
Pricing: $4.99/month with a 14-day free trial for paid plans.
Rating: 4.7.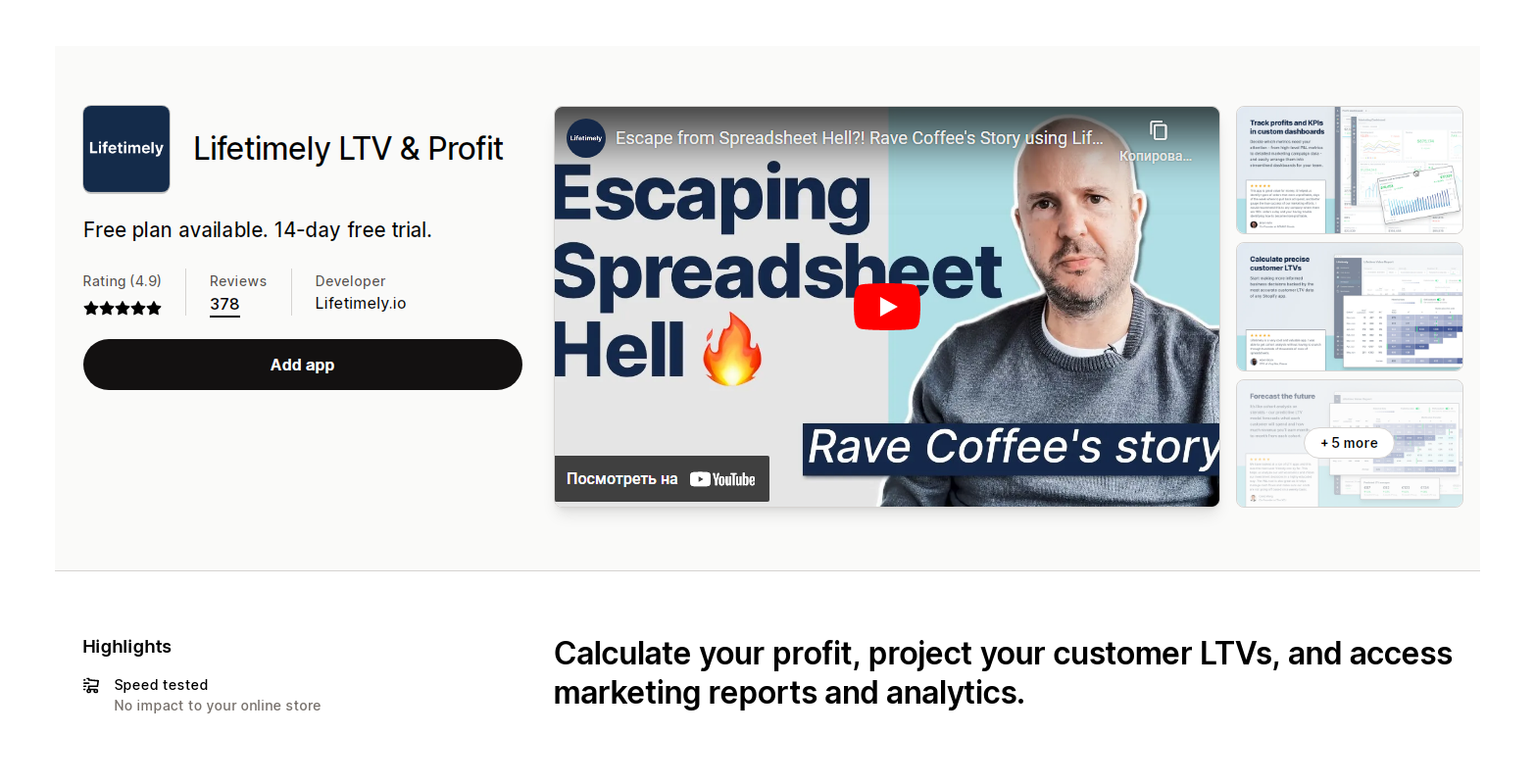 Lifetimely allows you to come up with a profitable business decision backed up by accurate customer behavior data and monthly LTV projections of Shopify. 
This app lets you track earnings in real-time. It interprets necessary aspects of advertising, shipping, and cost of goods to come up with accurate results. 
You also wouldn't have to struggle with the profit tracker spreadsheet. Facebook and Google advertising instantly deduct the advertising expense. So, things will be simple for you. 
The app also lets you analyze the customer's LTV. You can look at the Lifetime Value of the customer and their actions to determine how much to invest in customer acquisition.
It ensures that all your data is under one roof. This means whether it's Google Analytics, Recharge, or TikTok, the app can pull data from any source to ensure it's complete and accurate. 
Pricing: Free plan available, and 14-day free trial for paid plans.
Rating: 4.9.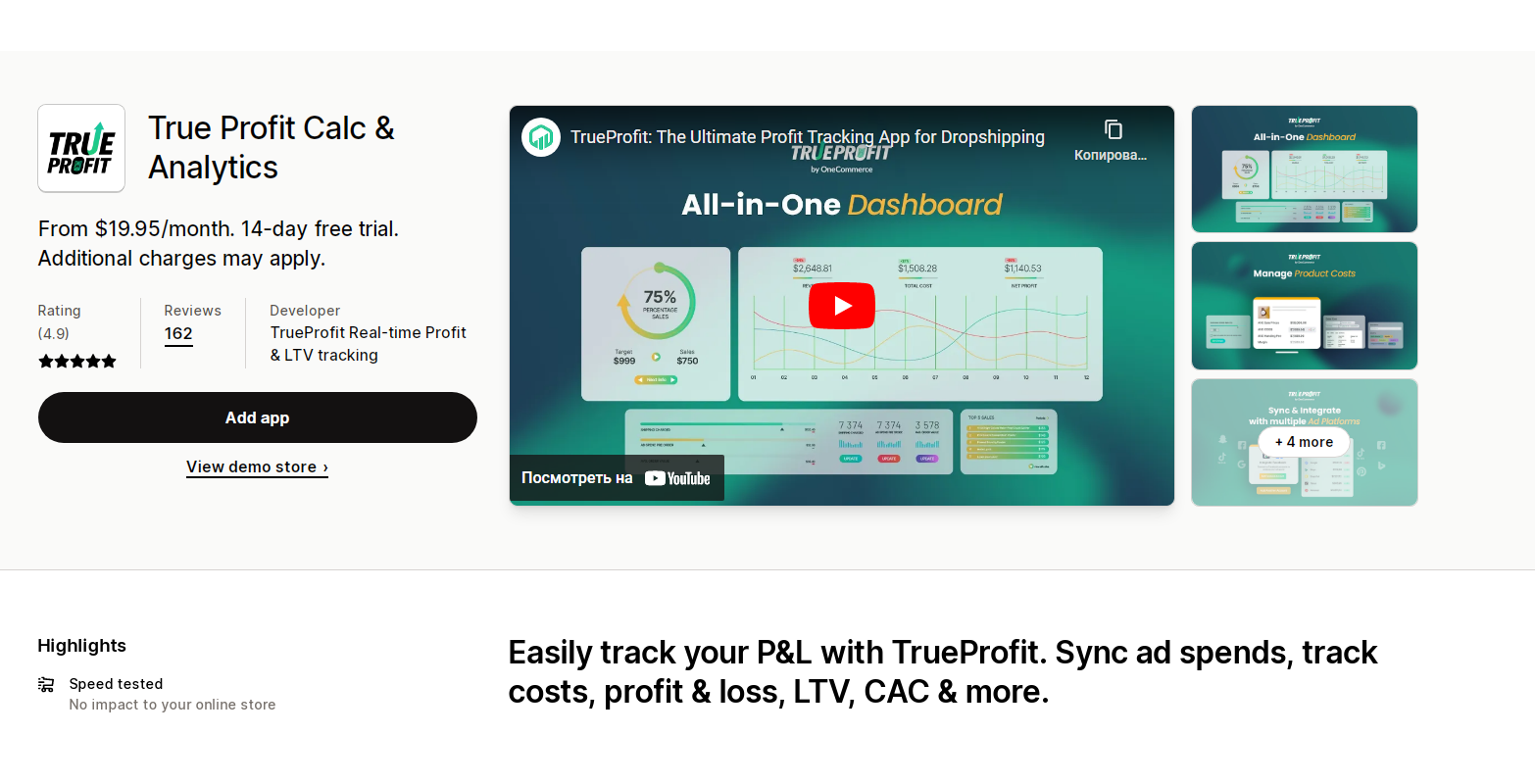 TrueProfit is a great profit-tracking app that shows the true profit of your Shopify store through effective and effortless data tracking. The app prevents the hassle of boring spreadsheets and helps monitor costs and expenses in one place. 
It offers powerful calculations and automated profit analysis for the Shopify stores out there. You'll be easily able to know how much you earn to ensure data-driven decisions for the business. 
TrueProfit offers features like automated profit calculations. It tracks the costs, revenue, and data and comes up with business reports automatically. This includes order histories, product, and profit analytics, all in one dashboard. 
Not just that, TrueProfit lets you manage the cost of goods sold. You can sync item costs from Shopify or add different COGS in different time ranges. 
It also integrates seamlessly with ad platforms like Facebook, Google, TikTok, etc., to make things more convenient for users.  
Pricing: From $19.95/month with a 14-day free trial for paid plans.
Rating: 4.9.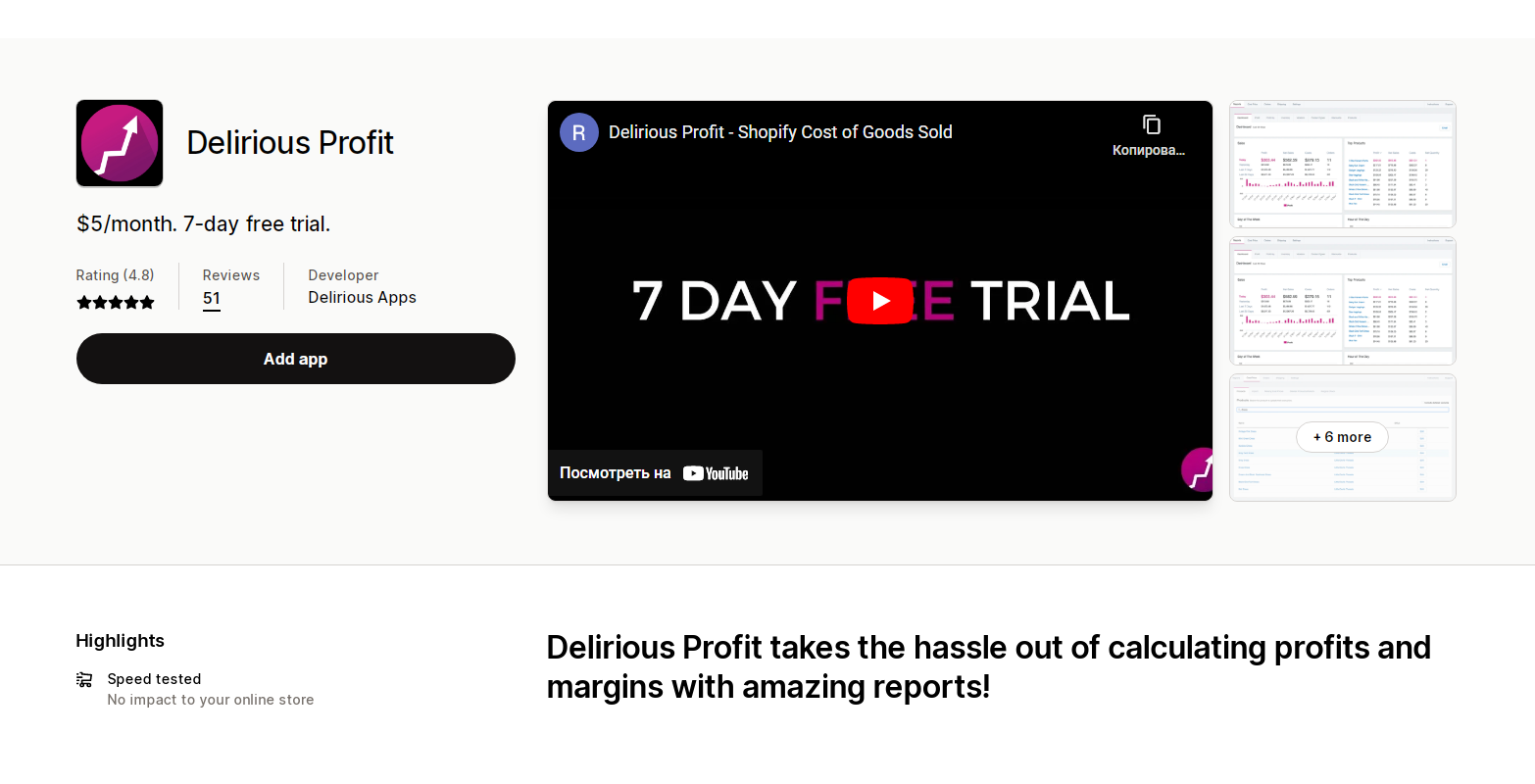 Delirious Profit is another profit tracker for Shopify that is easy to set up and use. It allows you to access all the data at your fingertips and ensure an intuitive user interface. Not just that, it imports your COGS or cost prices and comes up with powerful reports. These reports prevent the hassle of making spreadsheets for cost management. It also allows a quick and hassle-free breakdown of the data. 
The app is known for offering responsive, helpful support. This means regardless of your queries, the support team will help you with the same. 
As soon as you sign up for a 7-day free trial, you'll get complete access and support to unlock the potential of Delirious Profit. It gives you insight into business performance and comes up with informed decisions for good customer service and profits.
Lastly, the profit and margin reports can transform the way you do business online.
Pricing: $5.00/month with a 7-day free trial.
Rating: 4.8.
We hope that this review of the best profit trackers for Shopify will help online sellers make an informed decision that is best suited to their business needs.