Cross-border selling can be a highly effective strategy for growing your online business. By reaching out to customers in other countries, you can tap into new markets and increase your customer base. However, as your online store grows, you may want to reach a wider audience, which means you'll need more resources and more powerful facilities. And it happens that your current language translation app is no longer sufficient – it is limited in the things that another translation app provides. 
This is the time to consider upgrading to a more feature-rich app that offers a greater number of languages and more advanced translation capabilities. With the right translation app, you can make your online store more accessible to customers all around the world. 
So if this situation sounds familiar to you, this small guide can be helpful. Here, we'll discuss how to move translations from the two multilanguage Shopify apps, Shopify Translate & Adapt and Transcy, to LangShop.
The reasons to move translations to LangShop
From Shopify Translate & Adapt
Shopify Translate & Adapt is a translation app developed by Shopify to help you translate your online store into 2 foreign languages. However, many people wonder why to settle for just two languages when it's possible to add up to 20 additional languages to your store? 
Offering a wider range of languages on the website can provide many advantages, including access to a larger audience, increased credibility, and the potential to establish your brand as a global leader. As a result, it's worthwhile to consider a solution that offers a greater number of languages to help you tap into these benefits.
LangShop is a great alternative to Shopify Translate & Adapt. It offers you to add up to 20 additional languages and gives you access to a number of useful features not available with Shopify Translate & Adapt.  Let's look at some of them.
Store content often includes specific terms and brand names that might be challenging to translate correctly. In this case, the glossary is used. With the help of two main rules, "Never translate" and "Always translate", you can help translation engines achieve the most accurate translation results.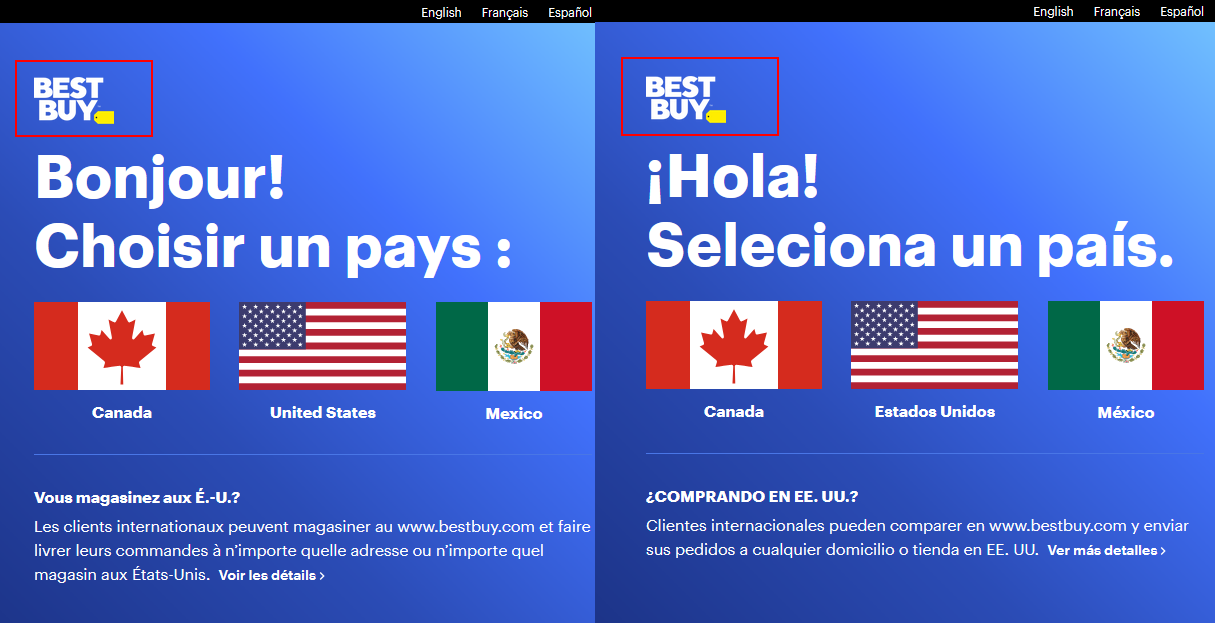 Different translation engines
In addition to Google Cloud Translation, LangShop also offers the option to translate content using DeepL, standard AI translation engines, or by ordering translations from a professional translation agency.
DeepL is a popular machine translation engine that provides highly accurate and nuanced translations. It can be a good option for translating larger amounts of content or for content that requires a higher level of precision.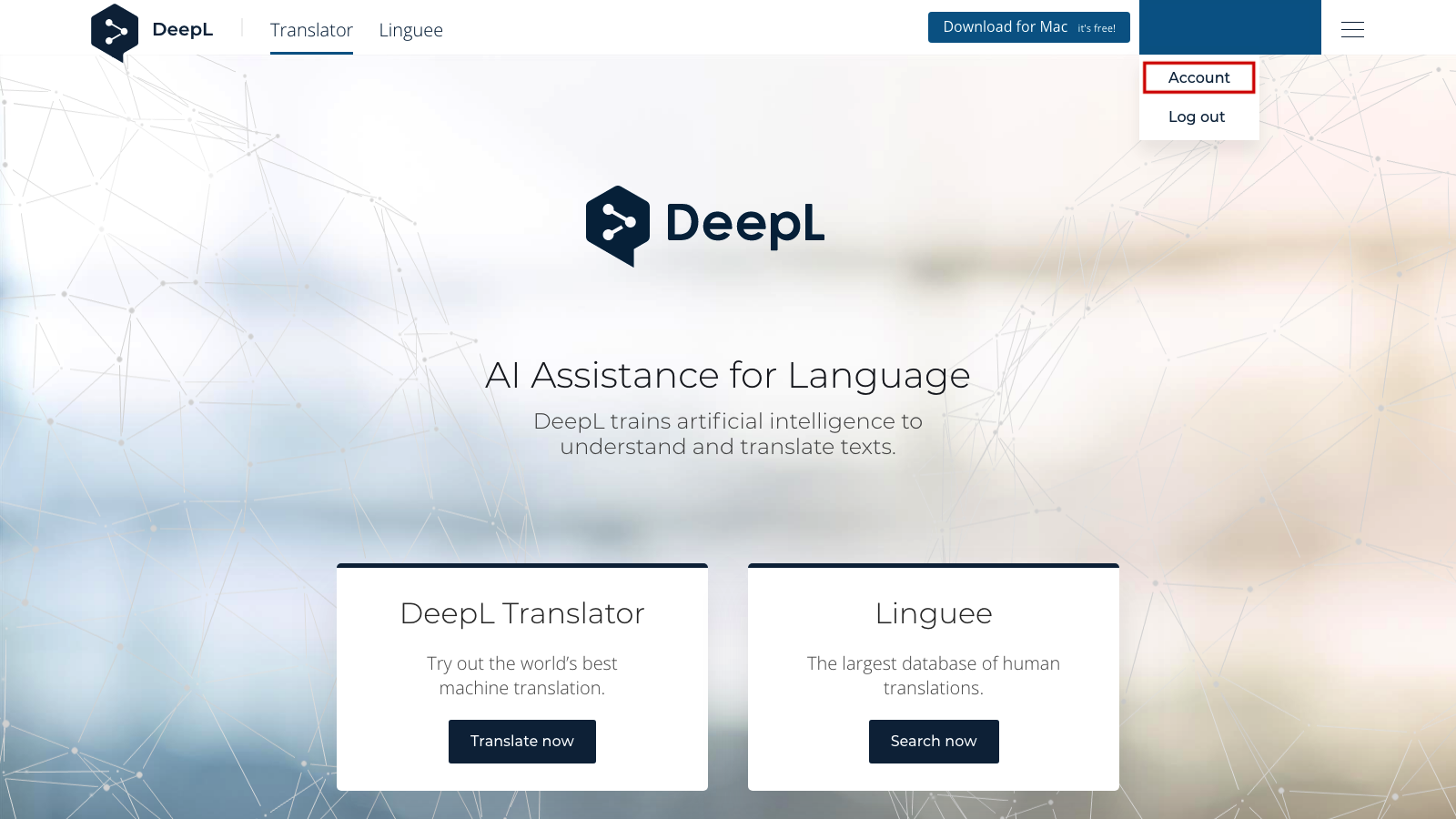 In contrast, standard AI translation engines are a more general option that may not provide the same level of accuracy as DeepL, but can still be useful for translating basic content.
For businesses that need an even higher level of accuracy or require translations for specialized or technical content, LangShop also offers the option to order translations from a professional translation agency. This can be an excellent option for businesses that require a more personalized translation service or have specific industry terminology that may require additional expertise to translate.
Automatic translation of new products and collections
LangShop's translation app includes a feature that automatically translates new products and collections when they are added to your online store. This is an incredibly useful feature that can help save time and streamline the translation process by getting rid of unnecessary manual work.
LangShop's translation app allows businesses to redirect users to the correct language version of their online store based on their browser language, country, or the store's language. The app also includes customizable switchers that enable users to manually switch between language versions.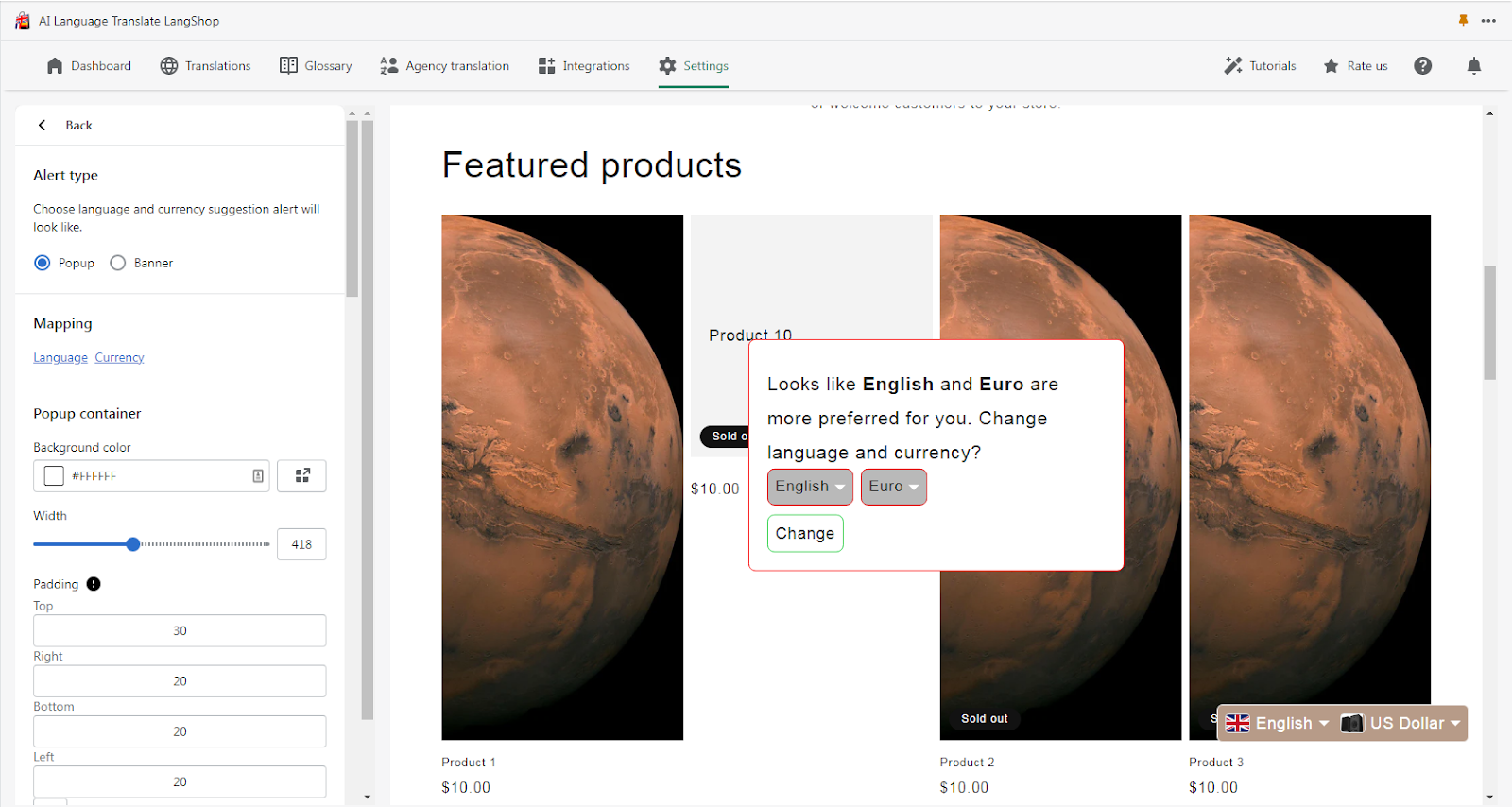 Transcy is one more Shopify translation app, allowing you to translate different types of content into multiple languages. However, it sets some restrictions for different pricing plans that may make you feel limited. In this case, you may want to try another translation app that is able to give you more freedom in using their features.
LangShop is a great candidate if you look for more opportunities. Let's look how LangShop can extend your opportunities even more!
LangShop offers a free plan to every business; no limitations to the period of running a store on Shopify or the number of already realized orders are set. If you want to use LangShop for free - just subscribe and do it. For those who search for more features, there's a 14-day free trial. You can downgrade to a free plan any time.
Also, LangShop doesn't set limits on the number of currencies for free plan users. You can add as many currencies as you need.
Full Flexibility on Advanced Plan
If you choose the most advanced subscription plan, you expect it will set no limits in the number of translated products or other features. Of course, except for restrictions set by Shopify. 
LangShop Advanced Plan allows unlimited automatic translation of new products and collections. You can also translate as many images and create as many glossary rules as you want.
These and many other powerful features make LangShop a perfect choice to move translations to from another translation app.
How to migrate translated content from Shopify Translate & Adapt, Transcy, and some other translation apps to LangShop
Moving translations from any Shopify language translation app to LangShop is easy and straightforward. Simply install the LangShop app, and you can easily migrate your translations without any loss of data. You don't need to do anything from your side, LangShop will automatically migrate your existing translations once you install the app.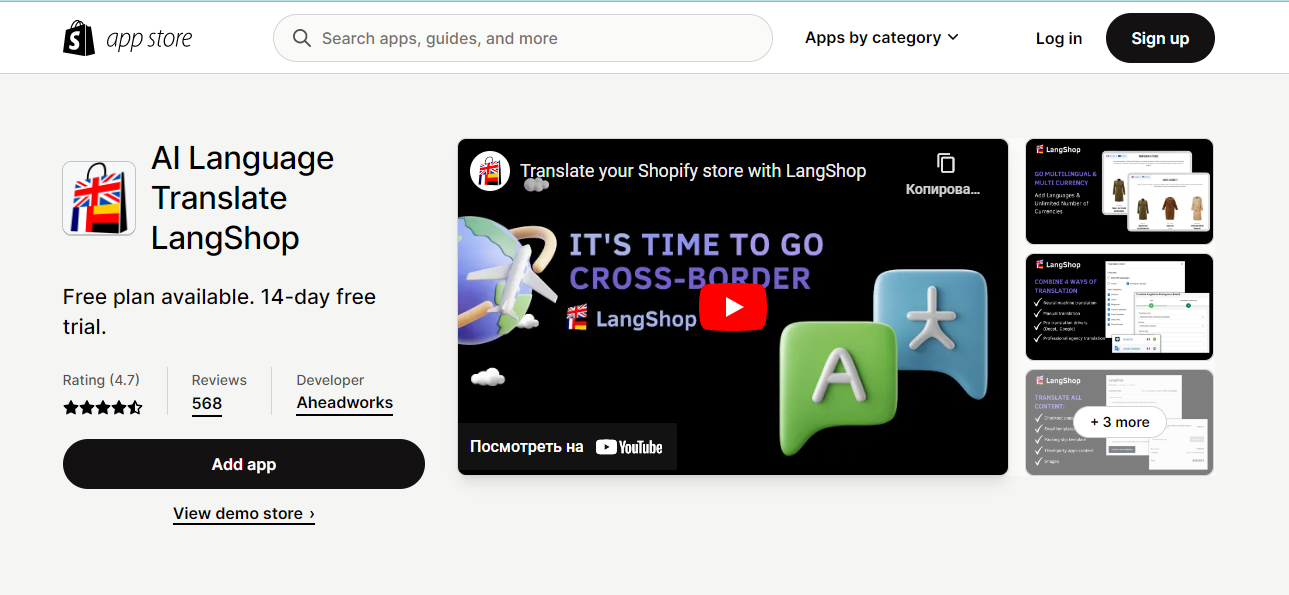 It is important to note, however, that any dynamic content translated by Transcy has to be migrated manually, or you can simply translate dynamics using LangShop native features.
Offering your online store in multiple languages can help to expand your business and reach a wider audience. LangShop translation app provides advanced features, such as customizable language detection, automatic translation of new products and collections, and a translation glossary, which make it an excellent choice for businesses looking for a more robust solution. 
Switch to LangShop - best translation app for Shopify easily without the content losses!