Imagine that you have hundreds to thousands of products and want to create some filters so your customers will not need to browse an endless list. How would you do it? Maybe you'd use metafields and add filters manually? Well, that could be an idea but the process will take a lifetime to do properly. 
To make the task much easier and, importantly, to better your storefront filtering for an enjoyable and high-converting shopping experience, product filter apps have come to the game. Before digging deeper into the list of the top solutions to improve your product filtering system, let's see what to consider when choosing an app in this category.
Top 7 Solutions for Your Shopify Storefront Filtering 2022
If you look for a product filter app on the Shopify app store, you will see over 1,700 results. It is quite overwhelming to you as a merchant. Which app would be the perfect match for your online store? Which one gives you a hand in driving shoppers to the right products and making purchases? Aside from their features, some criteria that you should consider are price, customer service, and whether it supports your theme or not. 
Understand your concerns, so today we will introduce you to shortlisted solutions that could be your right-hand man. 
Product Filter & Search by Boost Commerce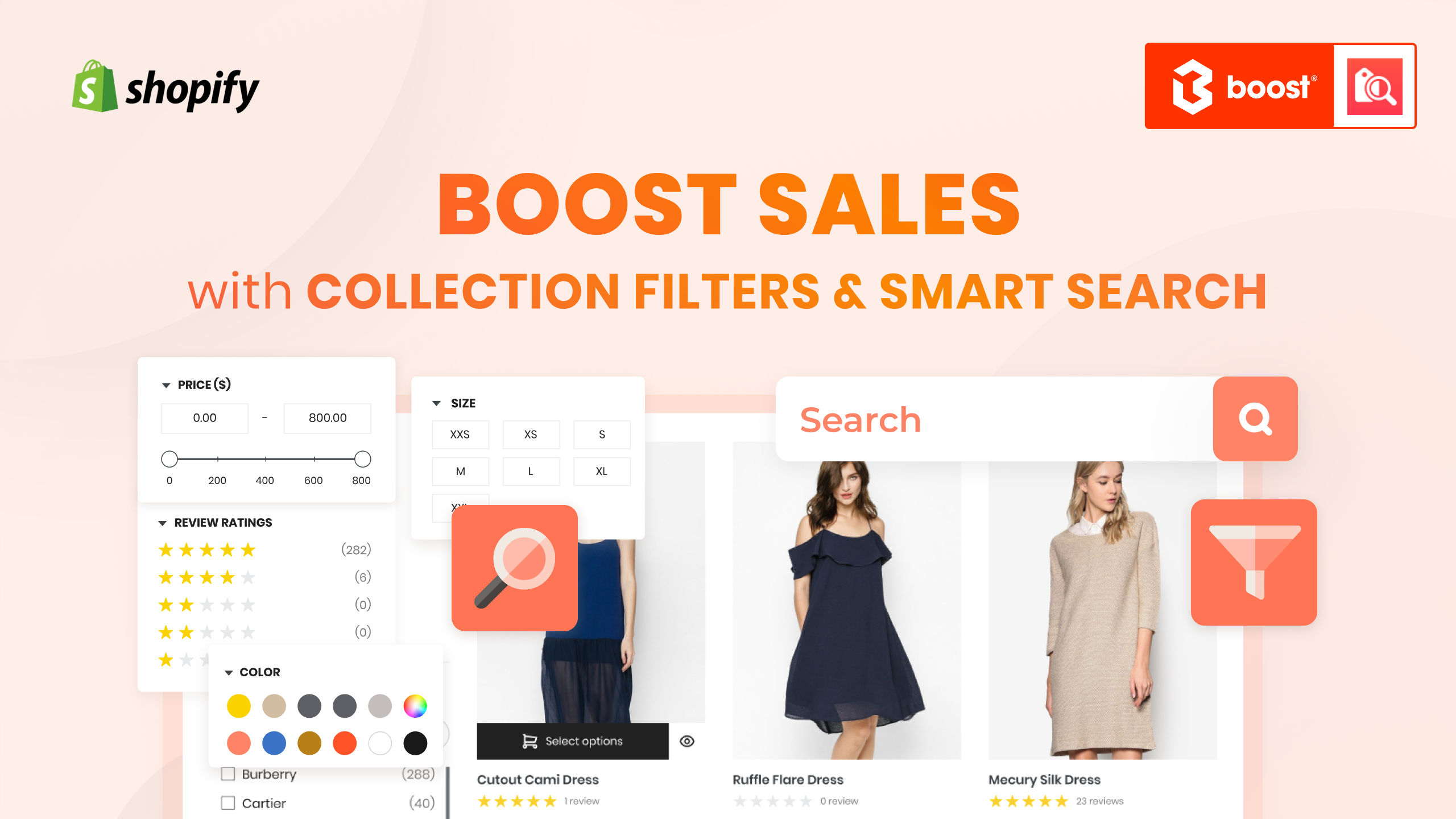 Product Filter & Search is used by seasoned eCommerce specialists, assisting over 13,000 online businesses in scaling up. The Boost Product Filter & Search app makes it easy for shoppers to find the exact products they want in your stores. It employs a variety of advanced capabilities for product filtering, search bar optimization, search merchandising, and on-site analysis of search activities.
The program also supports three filter layouts (off-canvas, horizontal, and vertical), which you may switch between to meet your demands. Furthermore, this fantastic application provides mobile optimization on all mobile devices as well as superb UX/UI. 
You can improve your site's service immediately with only one click and no coding experience. There's also a 14-day free trial so that you can learn more about the benefits of Product Filter & Search!
Overall rating: 4.9 

Price: Start at $19/month. 14-free day trial

Standout features: 

Create

an endless number of filter trees

based on product attributes, variants, tags, metafields, and so on that match your style to increase conversions

Smart eCommerce search

: Instant search and suggestions, filter results, spellcheck, suggestion dictionary, catalog redirects, and real-time product sync are all available

Powerful merchandising tools

: Set up smart triggers to automatically promote your products to the right consumers

Insightful analytics & reports

on shoppers' behaviors based on up to 365 days of data

Fast and easy setup

. Compatible with the latest themes

Dedicated online support
Smart Product Filter & Search by Globo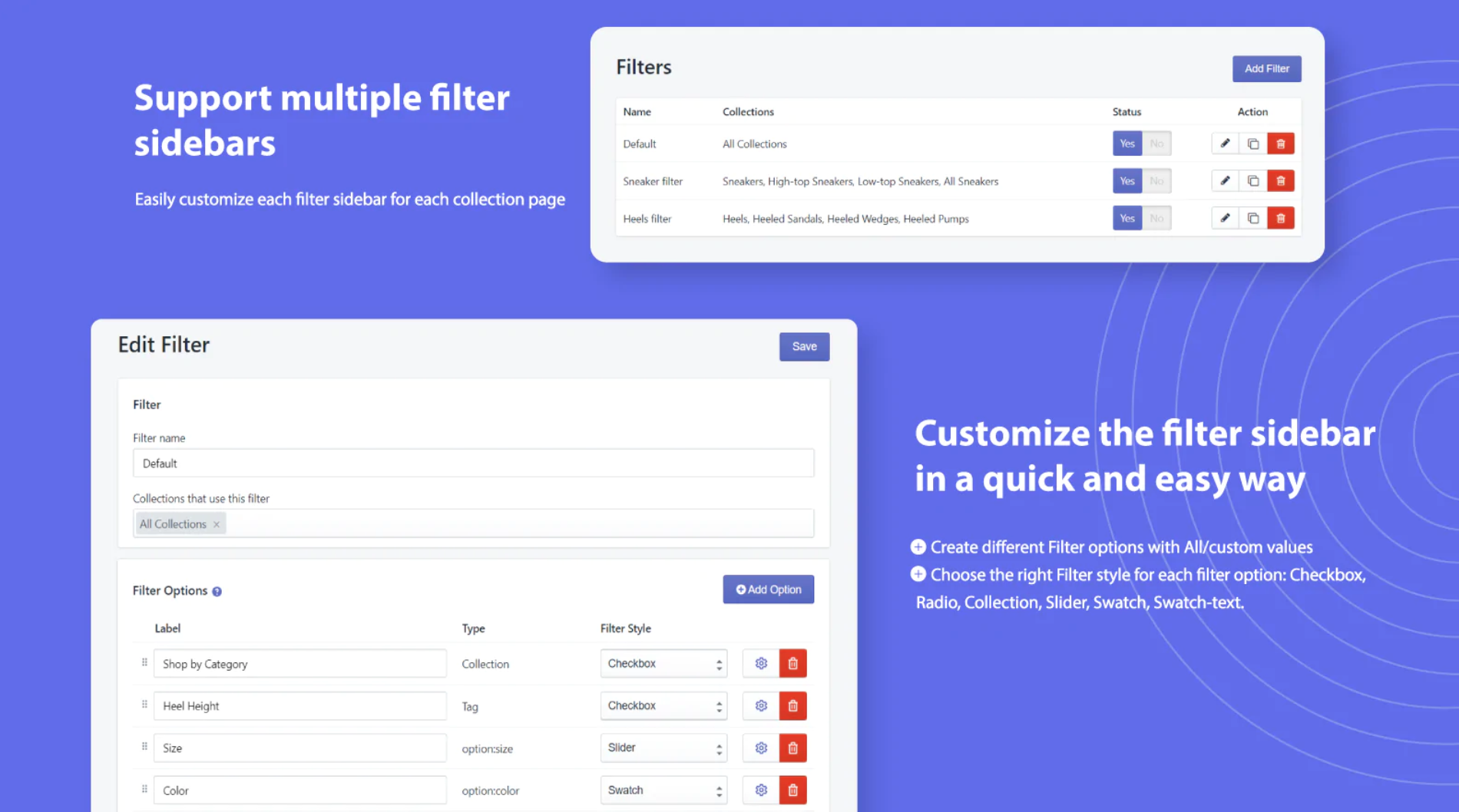 Smart Product Filter makes it easy for customers to find the right products in your store. This program allows you to build numerous product filters, and create specific filters for each of your collections. You can also choose multiple filter options; for example, you can filter products with size L and then colors blue. It is also possible to share the filter results via URL so that customers can easily share them with their friends.
Overall rating: 4.9 

Price: Free plan available. 21-day free trial

Standout features: 

Filter products by price, size, color, tag, vendor, brand, collection, and metafields

Powerful search engine with rapid suggestions and auto-correction. On the search page, there is a product filter. Simple integration with the original search bar

Year, Make, and Model Advanced Search: By adding a Make, Model, and Year search, you can transform your shop into a true Automotive Parts Store. This function is also known as 'Auto Parts Product Finder'
Product Filter & Search Bar by CloudSearch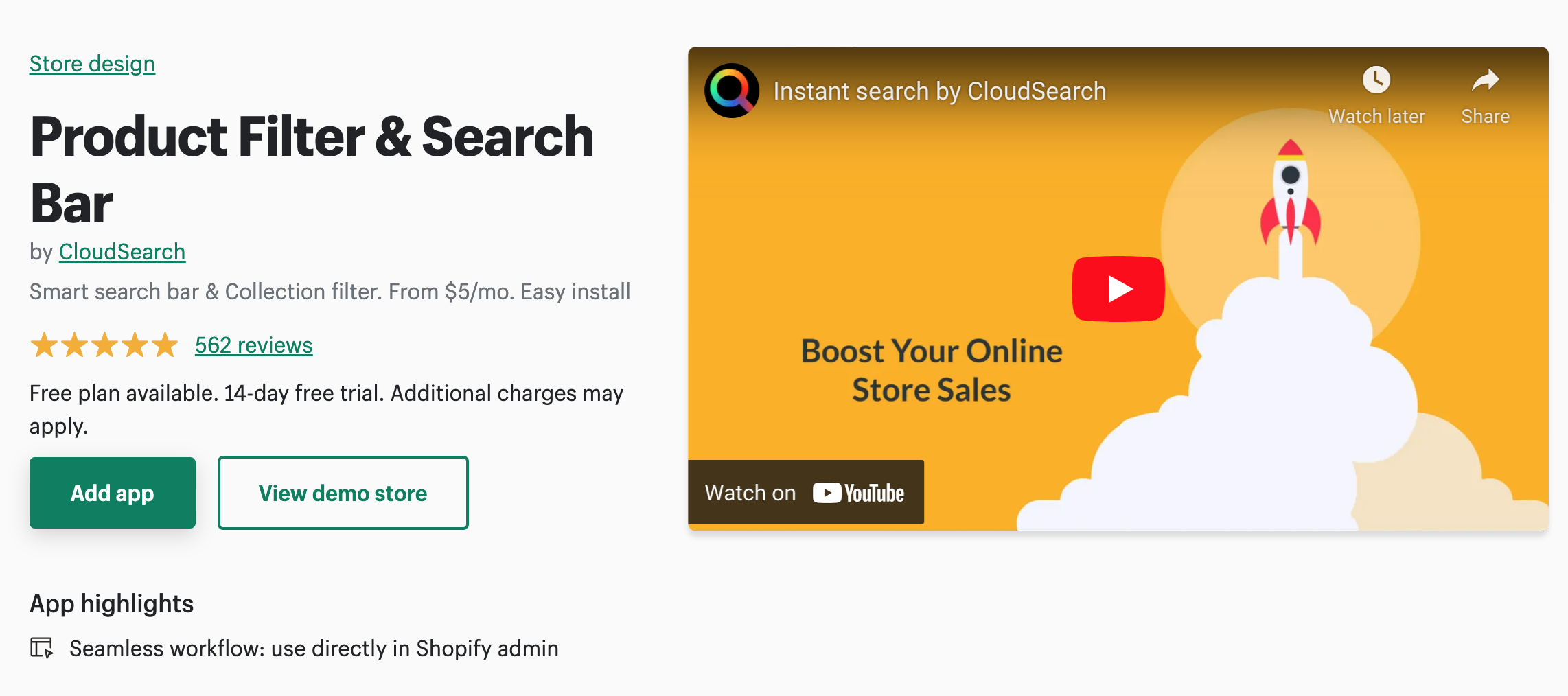 With Product Filter & Search Bar, you can entice customers with lightning-fast and highly relevant search results. Shoppers do not have to write the entire term or phrase because this app will aid them in searching and sorting the results like a pro. 
Furthermore, this app has access to every corner of your Shopify business. This means more data will be efficiently investigated, thereby providing a more robust search experience. 
The search tool and customization are quite useful in speeding up your customers' search process. For example, you can include a method that automatically corrects misspellings.
Overall rating: 4.9

Price: A free plan is available. 14-day free trial

Standout features: 

Real-time suggestions and search-as-you-type significantly shorten the path to buying your items

The search filter app offers direct access to every corner of your store. It examines product attributes such as names, descriptions, SKUs, options, and tags besides collections, pages, and blog entries

Use search analytics to learn what your store's visitors are looking for, which search keywords were successful, and which searches returned a 'No results' response

Multi-language support
Product Filter & Search App by Sparq

The Product Filter & Search app by the Sparq team allows merchants to filter their collection pages with tags, meta-fields, variations, and more. To improve user experience, you can utilize a nice filter widget. Likewise, shoppers will experience the search-as-you-type with auto spelling correction, synonyms, redirects, and other features to help buyers get closer to making a purchase even faster.
Another point that is worth mentioning here is advanced analytics. Users of this app can dig deep into shopper search behavior and understand their search criteria to provide better options and increase AOV.
Overall rating: 4.7

Price: Starting at $19/month. 14-day free trial.

Standout features: 

Fast instant search 

Advanced collection filters with multiple UI styles

Merchandising tools to grow AOVs

Deep analytics that reveals top search queries, zero result queries, and revenue report

Beautiful widgets to bring your store a professional look
Product Search Bar & Filter by Doofinder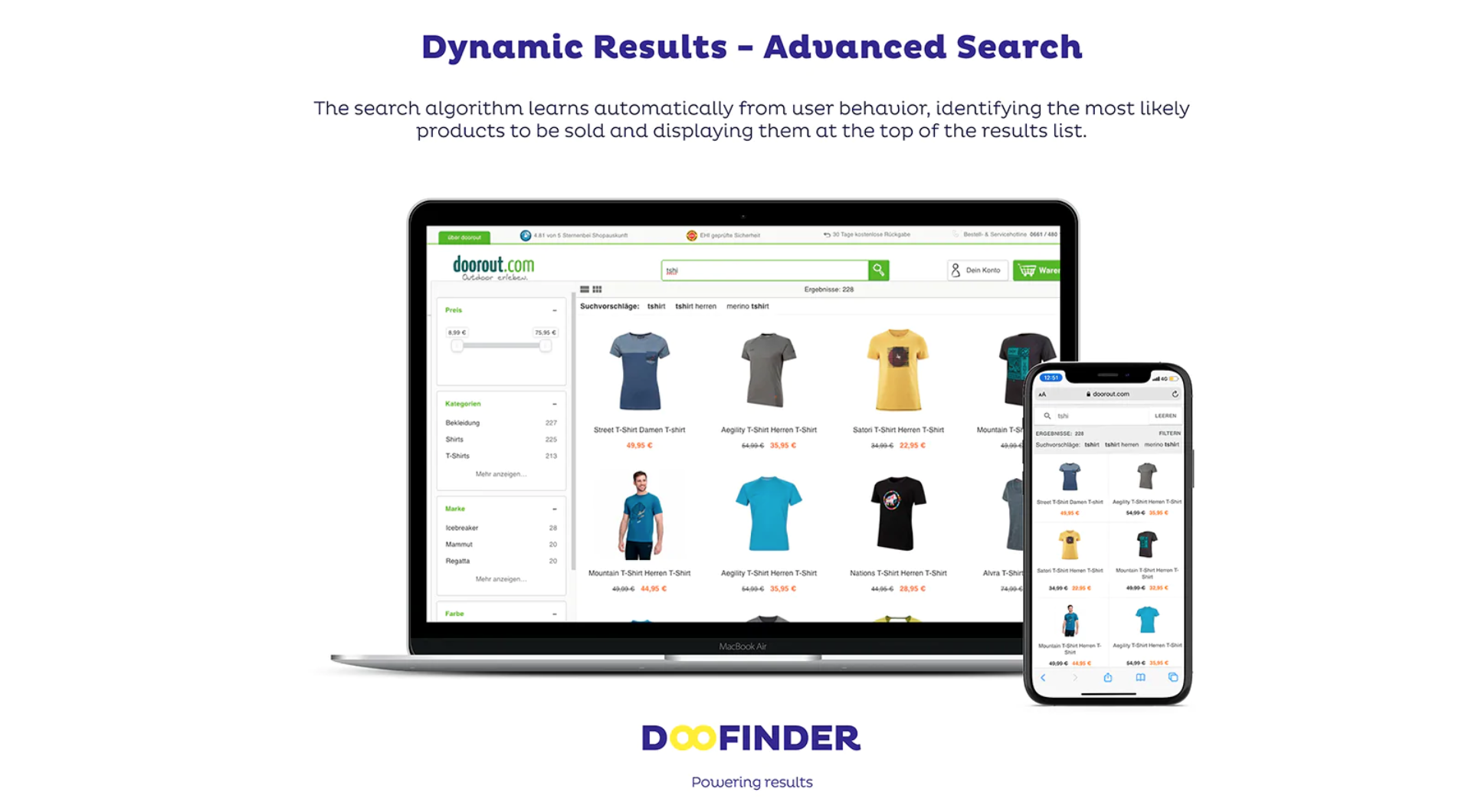 Doofinder is a complete eCommerce search solution. The app will index all of your items on its own servers when you set it up, removing the enormous pressure that product search places on your store's database. You can also index other forms of content, such as blog postings.
Lightning fast, dynamic, and predictive in nature, it intelligently interprets user behavior to give appropriate search results.
​​Doofinder, aside from producing a more accurate search index on the backend, provides its own frontend search overlay that improves your store's native search. Also, this app supports image and voice search which makes searching simple and much more convenient. 
Overall rating: 4.9

Price: A free plan is available. 30-day free trial

Standout features:

Use Doofinder's marketing features to display banners and promotions related to particular search phrases or campaigns.

Visual and voice search

semantic search technology that adapts to shoppers' behaviors
Smart Search Bar & Filters by Rapid Search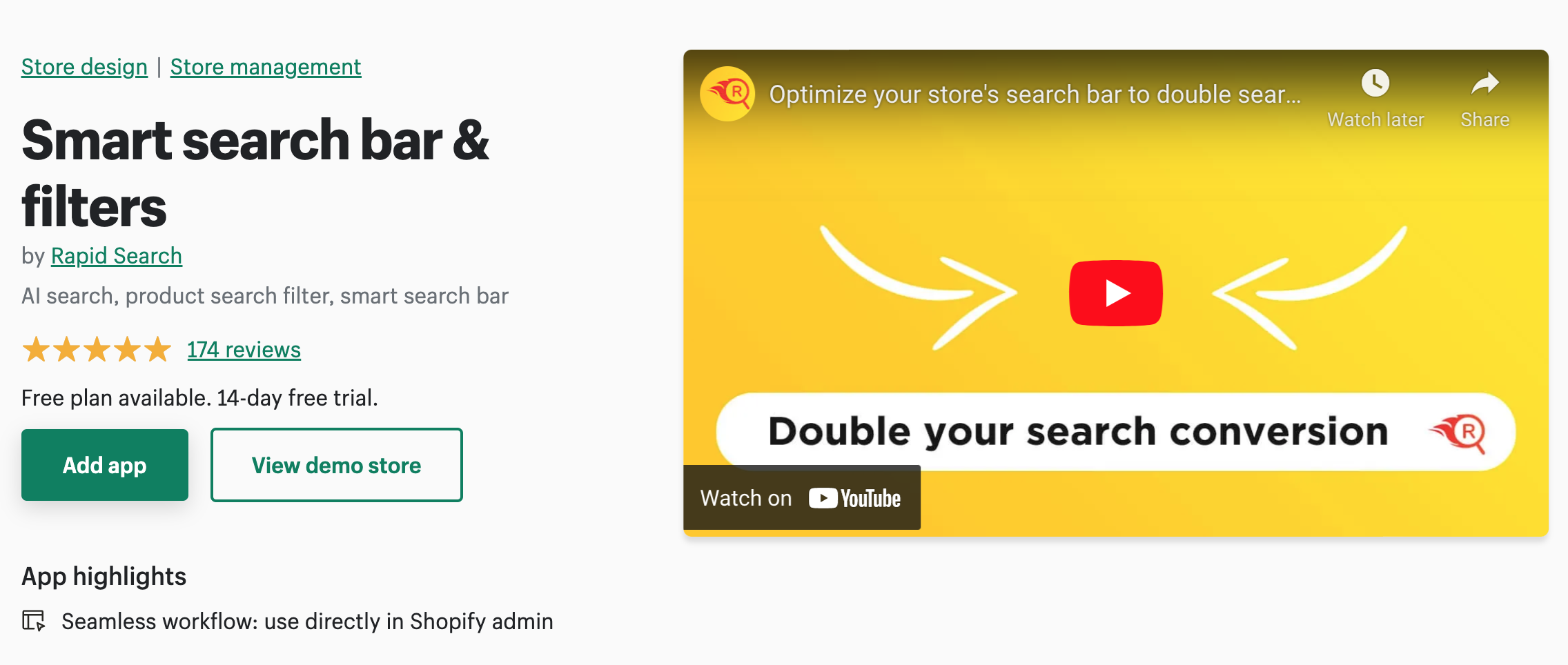 Rapid Search is an AI-powered Shopify solution that aids you in implementing a site search so that your consumers can find products more easily and quickly. In short, the app makes it easier for customers to find products in your store thanks to features like zero-character suggestions, autocomplete suggestions, misspelled words, and synonym recognition. 
The app can be accessed from both desktop and mobile devices. It also allows you to customize the icon of the search box. In addition, the Smart Search Bar & Filters app will operate nicely with several language versions if you have a multilingual store.
Overall rating: 5

Price: Free plan available. 14-day free trial

Standout features

Smart site search

Search bar with many languages

Product filtering and sorting options

The smart search bar nicely complements your design. It will appear to be a natural component of your store
Search & Product Filters by Fast Simon, Inc.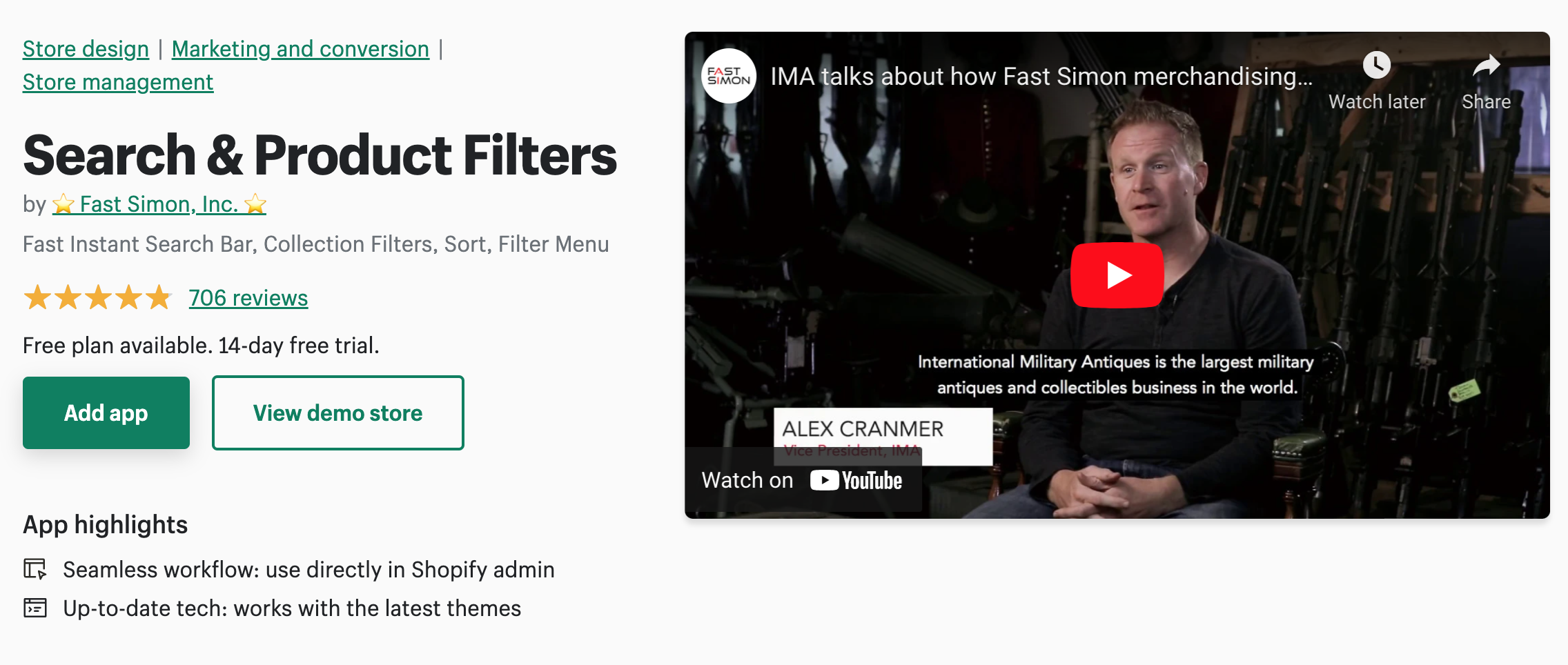 Search & Product Filters, created by Fast Simon, Inc., is an app that helps you optimize your search and merchandising to increase your store's conversion. This app provides a variety of valuable conversion-boosting capabilities. 
The search experience is simplified thanks to the app's advanced search capabilities. It allows for: smart search, tag-based filtering, cross-sell, upsell, autocomplete, did you mean, autocorrect, synonyms, and visual search.
Additionally, you users of the app have the opportunity to upsell shopping experiences. With product collections, merchandising, personalization, recommendations, visual search, and landing pages, you can provide a flawless shopping experience.
Furthermore, the app can help you improve conversion rates and AOVs.Their enterprise-class smart search enables you to convert more visitors with higher AOV. It may be tailored to your specific requirements, and it is priced to scale with your organization.
Overall rating: 4.8

Price: Free plan available. 14-day free trial

Standout features: 

Advanced instant search (AI-based)

Optimized collection filters

eCommerce merchandising tools

Search Analytics

Headless storefront provides developers with both a Direct REST JSON API and a Vue.js, React.js ready JavaScript SDK to integrate the full power of their platform into any eCommerce storefront.
That's it! The top Shopify product filter apps to help you grow your business. The majority of these Product Filter apps for Shopify offer a free trial, so go and spend some time trying out several apps before settling on one! Start today and see how the magic works!